Some of Mujica's comments are simply "stupidities" says Uruguayan president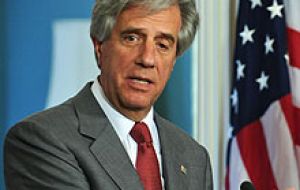 Uruguay's ruling coalition presidential candidate was strongly criticized by President Tabare Vazquez who described many of this comments out of place, and others simply "stupidities".
President Vazquez is currently in New York for the United Nations annual general assembly, after visiting Washington, and was interviewed on Thursday by a Uruguayan television station covering his trip.
In recent statements and in a book launched this week Mujica describes Argentina's ruling Kirchner couple as "thugs" and said Argentines are prone to "hysteric, mad and paranoiac" reactions.
He further described the Argentine ruling Peronist party as "mobsters" and the opposition Radicals as "good-intended fools". The same word he used to illustrate the Kirchner administration and the farmers, who have been in conflict over two years. Because of the dispute they "lost 8 billion US dollars of a 25 billion record crop, they are all fools!"
Vazquez said he did not talk with Mujica about the episode, but was quick to criticize Mujica's comments. Uruguayan ruling coalition Broad Front sources confirmed that Vazquez and Mujica have rarely talked to each other in the last few months, the last time was on the phone following the June 28th primaries when he defeated former Economy minister, and the president's hand chosen candidate to succeed him, Danilo Astori.
"As everybody knows I belong to the Broad Front and abide by the coalition's decisions", said Vazquez in direct reference to the fact that he did not agree with the nomination of Mujica as presidential candidate. "But, following the primary elections, I support the candidate chosen by the Broad Front".
"I share many of the things Mr. Mujica says but not all of them, and I certainly do not share some of his expressions" said Vazquez in direct reference to the presidential candidate's deliberate coarse language. "I particularly disagree with his criticism of everything and everybody, sometimes with a pontificating attitude, on philosophical grounds which finish turns him prisoner of his expressions. Some of them are simply stupidities and I certainly don't share them".
President Vazquez from a very beginning wanted Danilo Astori as presidential candidate but lost in the primary to a coalition from the MLN-Tupamaros former guerrilla group (headed by Mujica) and the Communist party which finally was victorious by an ample margin.
In the book "Pepe Colloquies" written by a journalist close to candidate Mujica he openly criticizes the left wing ruling coalition for its abuse of office perks, government jobs covetousness and questions the ethics attitude of some groups of the catch-all coalition.
He was particularly incisive towards the Socialist Party (from President Vázquez) which he describes as a "Manpower office" only dedicated to get jobs for followers and militants in the civil service.
In several interviews Mujica brushed off the impact of his comments, especially regarding Argentina and its political system, "I've been told by (Argentine president) Cristina Kirchner sources and other political groups not to worry about reactions, since they are used to these kind of heavy ammo during electoral periods".
Meantime the controversial book "Pepe Colloquies" was sold out in a couple of hours and a second and third runs are expected for this weekend. The book with interviews was written by Alfredo García, an MLN-Tupamaros militant who was a member of the urban guerrilla movement in the sixties next to Mujica.