Uruguayan president calls for stronger and more balanced Mercosur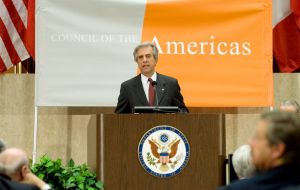 Uruguayan president Tabare Vazquez called for an integrated Mercosur with a greater number of countries to make it more competitive overseas, but also demanded greater balance inside the group among members.
"In Uruguay we believe in Mercosur and we want more and better Mercosur" said Vazquez during his address to the Council of the Americas in the framework of his two week visit to the United States.
Uruguay together with Argentina, Brazil and Paraguay are the founding members of Mercosur, and Uruguay currently holds the rotating chair of the group. But Uruguay has been particularly critical of the regional integration process as well as the de facto differences between the two large members (Brazil and Argentina) and junior members (Uruguay and Paraguay).
"We want more Mercosur because the more integrated countries, the stronger our voice in the international context, but I also used the word better, because we are not satisfied with the current Mercosur", said the Uruguayan president.
He mentioned the significant asymmetries between the larger and weaker economies and the tariff and non tariff obstacles among member countries which curtail junior members' access to the larger markets.
He mentioned as an example what usually happens with Uruguayan rice exports to Brazil, many times conditioned to the huge neighbour's domestic politics.
"Brazil prefers to purchase subsidized rice from the US instead of from Uruguay", claimed Vazquez who nevertheless admitted that great efforts have been made to try and compensate regional asymmetries.
Vazquez mentioned as positive decisions the implementation of the so called "convergence funds" which benefit Uruguay and Paraguay and help finance infrastructure projects.
But the Uruguayan president also pointed out that since its inception Mercosur has been limited to trade agreements, regulated by tariffs, but with not much more to show as integration in other fields or disciplines.
Vazquez said that the proliferation of different integration formats such as Mercosur, the Union of South American Nations, Unasur or the Andean Community of Nations, CAN among others are evidence of the difficulties to advance along the path of integration.
Vazquez finally said Uruguay was an attractive country to invest given its political stability, strong legal framework, working institutions and where contracts and private property are respected.