Brazilian incumbent presidential hopeful drops to third place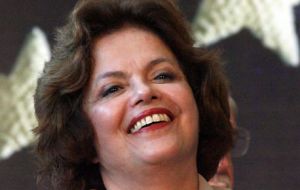 Brazilian Cabinet Chief Dilma Rousseff, President Lula da Silva's likely choice to replace him, fell to third place in a survey of voter preferences ahead of 2010 presidential elections.
Congress member and former presidential hopeful Ciro Gomes moved up to second place in the Ibope poll, while Sao Paulo state Governor Jose Serra remained in the top position.
According to the public opinion poll Serra would get 34% of votes in a runoff election, whereas Gomes would have 17% and Rousseff would get 15% of the votes.
In June, Serra had 38% of votes, Rousseff 18% and Gomes 12%.
Ibope surveyed 2002 Brazilians aged 16 or older, in 142 municipalities, between September 11 and 14. The survey was commissioned by the National Industry Confederation and has a margin of error of 2 percentage points