Honduras leader 'willing to talk'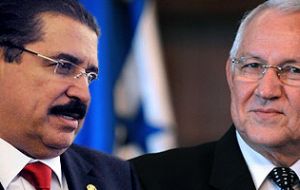 Honduran interim leader Roberto Micheletti says he is willing to talk to deposed president Manuel Zelaya, barricaded in the Brazilian embassy.
But Mr Micheletti said Mr Zelaya must first accept presidential elections scheduled for November.
Troops have surrounded the embassy in the capital Tegucigalpa, where Mr Zelaya appeared after his surprise return to Honduras on Monday.
Interim officials have cut off lights, water and telephones to the building.
Brazil has warned Honduran security forces not to enter the embassy and is seeking an urgent meeting of the UN Security Council to address the crisis.
Mr Micheletti has said there are no plans to use force.
He has urged Brazilian officials to either grant Mr Zelaya political asylum or hand him over to Honduran authorities.
A curfew in the capital has been extended until the morning.
Mr Micheletti said he was ready to hold talks with Mr Zelaya, but he attached conditions.
"I am ready to talk with Mr Zelaya, as long as he explicitly recognises the presidential elections," Mr Micheletti said in a statement read by interim foreign minister Carlos Lopez.
Speaking to BBC Mundo, Mr Micheletti said the way to resolve the crisis is "to go to elections on 29 November, choose a new president and... hand over power on 27 January as mandated by the constitution".
Mr Zelaya arrived in Tegulcigalpa nearly three months after being forced out of the country at gunpoint.
The political crisis erupted after Mr Zelaya tried to hold a non-binding public consultation to ask people whether they supported moves to change the constitution.
His opponents said the move was unconstitutional.
The US, Brazil and other governments have joined Mr Zelaya in calling for a negotiated settlement to the crisis.
Early on Tuesday soldiers used truncheons, tear gas and rubber bullets to disperse thousands of Mr Zelaya's supporters who had defied a curfew.
Some 70 supporters of Mr Zelaya are reported to be inside the embassy.
The lights, water and telephones were cut off on Monday and the only contact is by mobile phone, Brazilian media say. A generator is being used to provide electricity.
In a letter to members of the UN Security Council on Tuesday, Brazil said it is concerned "with the safety of President Zelaya and with the security and the physical integrity of the (Brazilian) embassy premises and personnel".
The interim administration insists no coup has taken place in Honduras - but rather a "constitutional succession" ordered by the courts and approved by Congress.
Costa Rican President Oscar Arias has mediated in peace talks between the two parties, but negotiations have so far failed. (BBC)