Uruguay sells 500 million dollars of bonds maturing 2025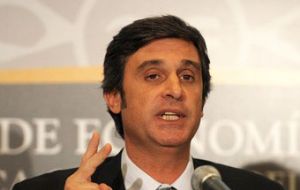 Uruguay sold 500 million US dollars of bonds maturing in 2025 in its first international debt issue in three years. The 16-year bonds are to yield 340.3 basis points above US Treasuries.
The issue is the first since October 2006, when the government sold 500 million USD in a re-opening of its 7.625% bonds due in 2036.
Uruguay's Economy minister Alvaro García said demand for the Global 2015 issue was 2.689 billion USD, giving an idea of the strong international financial prestige of the country. Uruguay tapped overseas debt markets amid a rally in emerging-market debt sparked by a recovering global economy.
García added that the issue was done to take advantage of the favourable international conditions and low rates, which means by the end of the year the treasury will have a billion US dollars readily available, "which is not needed but will help the incoming government".
Uruguay is holding presidential elections on October 25.
The yield on Uruguay's 2036 notes has tumbled 2.14 percentage points to 7.22% this year, according to JPMorgan Chase & Co. The bond's price has climbed to 104.75 cents on the dollar from 83 cents during that period.
Citigroup and Barclays acted as agents for the issue. Europe absorbed 40%, the US 50% and the rest in the local market.
The Uruguayan minister also underlined that in 2004 the debt/GDP ratio was 97% and in the first quarter of 2008 was down to 54%. "This latest issue will increase the ratio at the most 1.5 percentage points".
"With only a month for the presidential election and with the two leading presidential candidates in clearly antagonist positions, and one of them a former guerrilla leader, the over sale is evidence of international confidence in Uruguay and the performance of its economy", said Angel Urraburu, president of the local stock exchange.