Uruguayans will consume 86 kg of meat per capita this year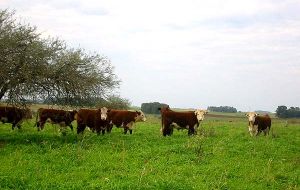 Uruguayans beef consumption per capita in 2009 is expected to reach 58 kilos and 86 kilos of all types of meat according to the latest estimates from the National Meat Institute (INAC).
Gabiel Costas, INAC Domestic Market Controller, Gabriel Costas made the announcement during the recent Expo-Prado Agro-Show based on the consumption rate of the first half of 2009. This represents an increase of 5% to 7% for beef, compared to 2008 and 11% when all meats are considered.
In related news INAC and meat industry sources said that annual cattle slaughter this year will remain almost unchanged but for a slight drop compared to 2008.
"In the next few weeks slaughter will surely drop, but it will make a strong comeback in the last two months of the year" Martín Secco, headperson of Marfrig-Tacuarembó, commented to WBR.
Marfrig-Tacuarembo expects the number of slaughtered cattle to be slightly below the 2.21 million head of last year. However mid-year prospects indicate a much more significant drop.
INAC director of Information and Economic Analysis, Pablo Caputi, estimated that "a reasonable and even conservative scenario includes an industrial cattle slaughter of some 2.2 million head or, maybe, some more", with not much of a change over the past year.
Caputi estimated a 5% increase for domestic consumption and a modest 2% drop in beef exports that should be in the range of 360,000 tons cwe, at an average FOB price of 2,500 US dollars per ton.
The supply evolution in these past 2-3 weeks could be indicating that the floor on cattle slaughter may be reached in October, with a firm market, but supply is forecasted to increase as animals reach their optimum slaughter weights.
If the number of animals slaughtered by the meat industry reaches 2.2 million, it would be on average with the past two years.
For additional information see: World Beef Report by Blasina, Tardáguila Consultores