Beef export peak forecasted in Argentina for 2009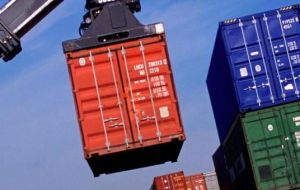 Argentine exports of refrigerated beef reached 34.923 tons in August equivalent to 131.2 million US dollars, according to official data provided by Senasa (Animal Health National Service).
The volume, though lower than the July peak is still quite high: "If we extrapolate last quarter average (63.000 monthly tons carcass equivalent), it gives an annual total of 750.000 tons, one of the highest levels of Argentine beef exports, similar to 2005 and 1979" said an industry source consulted by WBR.
The main destination for fresh meat is still Russia, followed by Chile that has a consumption peak previous to September national holidays. Third was the European Union with the six main countries of the block totalling 5,016 non-Hilton tons, below the 6.335 tons of July.
"Argentina is shipping relatively high volumes to Europe" export sources said, adding that even when the Hilton quota shares start to be distributed in Argentina, it won't mean a downward pressure for prices.
Exports of processed beef and offal were also relatively high, with UK and US exclusive customers in the first case and Congo, Hong Kong and Russia for the second produce.
During the first eight months of the year, Argentina exported 237,835 tons of beef at an average FOB price of US$/t 3,992, which is 66% higher in volume and 32% lower in price than the same period 2008.
Processed beef exports accumulated 24,354 tons (+41%) at the same value of the past year (US$/t 3,615), while offal and tripe totalled 101,358 tons (+44%) at an average price of US$/t 1,359 (-9%).
The Argentine government last Friday made public in the Official Bulletin the criteria for the distribution of the much coveted EU 28.000 tons 2009/10 Hilton quota, the plum of the Argentine meat packers export industry.
As expected the distribution will be made through a Public Contest, for which interested firms should submit "a minimal export plan with a description of the necessary infrastructure and logistics to efficiently comply with the assigned share in a constant provision, which may assure regularity and continuous execution of the granted licence throughout the trade period", according to Resolution 7530/2009 from the National Office for Agrarian Trade Control (Oncca), which is now the agency in charge of the quota distribution. The new regulation will be valid until 30 June 2012 and, therefore, includes three annual periods.
However the resolution is proving controversial and has triggered criticisms from different sectors of the beef industry which argue the new regulation is "too late, too discretional and basically benefits the major packers with strong workforces".
See: World Beef Report by Blasina, Tardáguila Consultores