International Excopesca 2009 attracts 100 exhibitors to Mar del Plata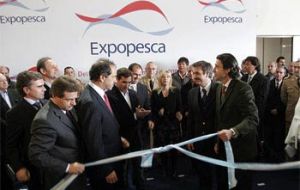 The second edition of Argentina's Excopesca 2009 was opened this week at the Mar del Plata Exposition Centre. The international fishing and aquaculture industry event set to run through Saturday has attracted some 100 exhibitors representing the entire fishing industry chain of value: catch, processing, cold storage and logistics plus other sectors linked to the industry.
The inauguration ceremony was chaired by the governor of the Buenos Aires province, Daniel Scioli; Mar del Plata mayor Gustavo Pulti; the event's manager, Alexander Clot and the president of Fundación ExportAr, Martin Elizondo, among other officials and executives.
Scioli stressed the importance of giving continuity to Expopesca within the context of the economic crisis impacting the fishing industry as a whole.
"Events like these require Argentina to continue growing and increase its production. Because of the crisis, some told us they had doubts, but we need Expopesca, now more than ever," the Buenos Aires governor affirmed.
In addition, he pointed out the business opportunities that can arise during the fair that will see executives from Brazil, Korea, Ghana and other countries to network with their Argentine counterparts.
Elizondo said it was a privilege for Fundacion ExportAr to endorse Expopesca's development. "We have summoned executives from different parts of the world to meet with about thirty local business owners. In spite of the crisis, there are many opportunities for growth".
The exhibit has been organised by two of Argentina's leading media organizations, Clarin and La Nacion together with an expert team that specializes in fairs and internationally renowned events.
"The start of last year was incredible. I adore this exhibition. It would be great if everyone supported this national event we are undertaking; it is important. All in all, Expopesca is giving us a good opportunity to meet with business people and network with our suppliers. This is always a good idea," said Jose Moscuzza head of one of Argentina's main cold storage companies.
"This is a very complicated year; nevertheless, we shouldn't complain and, yes, get to work, to continue struggling and fighting. Today the market is very stable, [for] demand is low. For now, we are hoping the storm to die down. The major international financial crisis is affecting our products' buyer countries like Spain, Italy, Portugal and others," he concluded.
The event also features business rounds, international conferences, dynamic exhibition spaces, a gastronomic sector, sport fishing area and a gastronomic competition in three categories: sea fish, river fish and shellfish.
In the framework of the fair Fundacion ExportAr has organized the second International Round Buyers of the Fishing Industry, Fish-sourced Foods and their Derivatives. The round of business dealing is being held between Argentine companies involved in fishing, processing and cold storage.
Companies present at the expo include, Korea Tsukuji Korea CO. LTD (Korea), Finetec Cold Storage Corporation (Korea), Aquabarna SL (Spain), Jeronimo Martins SA (Brazil/Portugal), SC Foods CO LTD (Japan) and Fasonhog (Ghana).
The conference agenda will cover the following subjects: Technologies applied to fishing control; Financing tools; The Mar del Plata wholesale fish market project; Commitments in international forums; The state of global markets; The application of illegal fishing regulations; The challenge of traceability within the framework of the imminent change of European Union regulations. (FIS).-