Uruguay on the "grey list" of OECD tax havens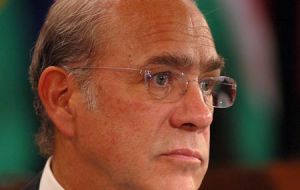 Uruguay, Chile, Costa Rica, Guatemala among nine countries remain in the so called "grey list" of tax havens from the Organization of Economic Cooperation and Development, OECD, one of the issues to be addressed by the G20 summit in Pittsburgh.
G20 leaders agreed last April to name and shame offshore centres that did not cooperate on tax evasion and threatened them with sanctions. That caused political embarrassment for international offshore centres, which swiftly agreed to relax their bank secrecy rules.
The pressure was particularly high on Switzerland which is the biggest offshore centre and manages one third of the world's wealth. Fear of sanctions pushed Berne to agree for the first time it would share with foreign tax authorities certain bank data on tax evasion matter, a move the local press described at the time as a capitulation.
Many offshore centres, including Austria and Luxembourg, have already been taken off the 'grey list' in recent weeks.
"Signing agreements is only one step in a process. What we will now be looking for is effective implementation by all countries" said OECD Secretary General Angel Gurria attending the G20 summit.
According to OECD, countries are divided among those that have substantially implemented the internationally agreed tax standard, those who have committed but have not yet substantially implemented, and "other financial centres" which supposedly make up the "grey list".
The internationally agreed tax standard, which was developed by the OECD in co-operation with non-OECD countries and which was endorsed by G20 Finance Ministers at their Berlin Meeting in 2004 and by the UN Committee of Experts on International Cooperation in Tax Matters at its October 2008 Meeting, requires exchange of information on request in all tax matters for the administration and enforcement of domestic tax law without regard to a domestic tax interest requirement or bank secrecy for tax purposes. It also provides for extensive safeguards to protect the confidentiality of the information exchanged.
Uruguayan authorities questioned on the "grey list" said they were not aware of the situation. "I have not been informed on the matter", admitted Economy minister Alvaro García.
Uruguay faced a similar situation last April when it was classified among those jurisdictions that "have not committed to the internationally agreed tax standard". However Uruguayan authorities reacted immediately and were removed from the last category.