Uruguayan economy becoming growingly Brazil dependent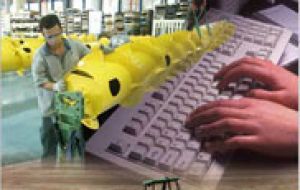 Brazil has become Uruguay's main trade partner and investor having taken over vital spaces of the country's economy in its most dynamic sectors, according to different reports that have surfaced during the campaign for next month's presidential election.
Eight of Uruguay's main export companies, representing 15% of total overseas sales are in Brazilian hands. So is the beer industry, and Brazilian government managed oil corporation Petrobras owns the second largest fuel distribution network, a significant share of the gas pipelines system and has been awarded licences to explore for hydrocarbons offshore in the River Plate.
Uruguay's main rice corporation Saman belongs to a Brazilian company and six of the ten most modern abattoirs are shared between international meat processors Marfrig, Bertin-Fribol and Pulsa, all from Sao Paulo.
Two important construction companies, Saccem and Metodo, as well as textile industry suppliers are also Brazilian and this week 51% of Uruguay's largest private tannery Zenda was absorbed by Marfrig.
The all powerful Itaú bank also operates in Montevideo after having purchased Bank of Boston assets and its list of clients.
Next week Marfrig will also be floating securities in the Uruguayan stock exchange, which could open the way for Brazilian papers and equities to dominate the local market, further making the country dependent on the largest Latinamerican economy.
In the first half of this year Brazil was Uruguay's main trade partner with 530 million US dollars equivalent to 19.5% of all exports.
Brazilian tourists in growing numbers are also discovering that Uruguay has excellent beaches and is a very safe place compared to rampant crime cities in South America's largest country.
"The current situation is not so conclusive", said Amir Lima Nascimento, Commercial Attaché of the Brazilian embassy in Montevideo. "The fact that the Brazilian economy is performing helps" and so is "its expansion".
"A strong Real props Uruguay's tourism and retail business, plus the fact that Uruguay's tax, fiscal and logistics system attract Brazilians to make business in the country" added the Brazilian official.
"Links are strong particularly with the south of Brazil", he admitted.
Oscar Montaldo president of the Uruguay-Brazil chamber of commerce argues that Brazilian companies bring along "their technology and market access, which is something Uruguay must take advantage of".
However economist Pablo Noya points out that Uruguayan exports to Brazil are mainly commodities with not much added value, such is the case of rice, beef, barley and in the near future, skins and hides.
Strategically Brazilian investments are significant and they are concentrated in "agro-business, finance and more recently energy which is Uruguay's main immediate challenge".
Economist Florencia Carriquiry points out that the experience of the last three decades shows Brazil's growing importance for Uruguay's economy to the extent that "Uruguayan cycles are increasingly closely linked to the evolution and performance of the Brazilian economy".
"The bilateral exchange rate with Brazil is very important for Uruguay: when we loose competitiveness with Brazil the economy enters a recessive cycle as happened in 1999/2002. Currently the Real/Peso parity is above average and the good prospects for the Brazilian economy have spilt over to Uruguay with a positive, low risk outlook. That is the good side of dependency" argues Carriquiry.
A recent report on Direct Foreign Investment from the Economics Department from Uruguay's Social Sciences Faculty shows that between 2001 and 2003 Brazil invested 11 million US dollars in Uruguay, but in 2004/06 the figure jumps to 99 million USD.
Among the main operations figure the purchase by the Ambey group of the Uruguayan beer industry. In 2006 Petrobras took over Shell's network of gasoline stations and purchased 15% of the gas pipeline system in Montevideo and 100% in the rest of the country.
That same year Bank Boston sold its assets, including a plastic card and a third of a pensions' fund to Itaú bank.
The following year Brazilian meat industry giants acquired Uruguay's main abattoirs licensed to export to all world markets and Camil took a dominant share of the rice production and export market with the purchase of Saman, the largest rice mill.
Itaú kept expanding in 2007 with ABN Amro assets in Uruguay and in 2008 one of the main public works company Saccem was turned over to Brazilian investors.
Brazil has a population of 198 million; GDP of 1.9 trillion US dollars making it the tenth largest economy of the world. Overall foreign trade reached 371 billion US dollars. Per capita income averages 10.200 US dollars.
Uruguay has a population of 3.5 million; GDP of 43 billion USD with an overall foreign trade of 9.3 billion USD and per capita income of 12.400 USD.
Numbers refer to 2008 stats and 2008 USD.