Falkland Islands de-mining another step closer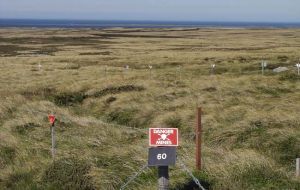 Two members of the De-mining Project Office (DPO) being set up by the British Foreign and Commonwealth Office (FCO) to oversee de-mining in the Falklands this year, will arrive in the Islands on Thursday.
Programme Manager Lt Col Robin Swanson and Technical Adviser Guy Marot will be familiar faces to locals as they have both commanded the Falkland Islands Explosive Ordnance Disposal Detachment during their army careers.
His Excellency the Governor of the Falkland Islands, Alan Huckle, told MercoPress today, "The FCO is not yet in a position to announce the name of the company which has been awarded the de-mining contract. Nethertheless, it is expected that clearance of four sites at Surf Bay, Sapper Hill, Goose Green and Fox Bay (East) will start in early November and conclude by the end of the Austral summer"
The FCO has contracted C King Associates Ltd to set up a De-mining Project Office (DPO) based in Stanley.
The DPO's role is to exercise quality control and quality assurance over the de-mining contractor's activities so that Islanders and the FCO can be sure that the de-mining programme is carried out to the standards set by the National Mine Action Authority (NMAA).
A number of jobs in support of the de-mining project will be advertised locally. The DPO and the de-mining contractor will rely on the support of local companies for accommodation and supplies.
Mr Huckle said, "The FCO would like to thank the Falkland Islands Government and Islanders for their assistance and advice during the procurement process and looks forward to further close collaboration. The Falkland Islands Government will continue to participate in the National Mine Action Authority which will oversee the de-mining activity from London."
Lisa Watson - SeAled PR - Stanley