Four million HIV positive people receiving life-saving treatment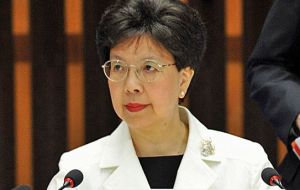 More than 4 million people in low-and middle-income countries were receiving antiretroviral therapy (ART) at the close of 2008, representing a 36% increase in one year and a ten-fold increase over five years, according to a new report released by the World Health Organization (WHO), the United Nations Children's Fund (UNICEF) and the Joint United Nations Programme on HIV/AIDS (UNAIDS).
Towards Universal Access: Scaling Up Priority HIV/AIDS Interventions in the Health Sector highlights other gains, including expanded HIV testing and counselling and improved access to services to prevent HIV transmission from mother to child.
"This report shows tremendous progress in the global HIV/AIDS response," said WHO Director-General Margaret Chan. "But we need to do more. At least 5 million people living with HIV still do not have access to life-prolonging treatment and care. Prevention services fail to reach many in need. Governments and international partners must accelerate their efforts to achieve universal access to treatment."
Access to antiretroviral therapy continues to expand at a rapid rate. Of the estimated 9.5 million people in need of treatment in 2008 in low- and middle-income countries, 42% had access, up from 33% in 2007. The greatest progress was seen in sub-Saharan Africa, where two-thirds of all HIV infections occur.
Prices of the most commonly used antiretroviral drugs have declined significantly in recent years, contributing to wider availability of treatment: the cost of most first-line regimens decreased by 10-40% between 2006 and 2008. However, second-line regimens continue to be expensive.
Despite recent progress, access to treatment services is falling far short of need and the global economic crisis has raised concerns about their sustainability. Many patients are being diagnosed at a late stage of disease progression resulting in delayed initiation of ART and high rates of mortality in the first year of treatment.
Recent data indicate increasing availability of HIV testing and counselling services. In 66 reporting countries, the number of health facilities providing such services increased by about 35% between 2007 and 2008. Testing and counselling services are also being used by an increasing number of people. In 39 countries, the total reported number of HIV tests performed more than doubled between 2007 and 2008.
Ninety-three percent of all countries that reported data across all regions provided free HIV testing through public sector health facilities in 2008. Nevertheless, the majority of those living with HIV remain unaware of their HIV status because of low awareness of personal risk of HIV infection and fear of stigma and discrimination.