Uruguay's Afro-cultural tradition becomes world heritage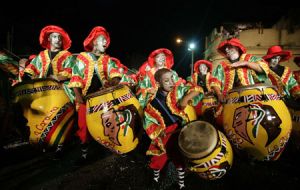 Candombe, a dance and choreography of strong cultural tradition among the Afro-River Plate population which was originally brought by slaves mainly to Uruguay, was declared Wednesday as belonging to the world's Intangible Cultural Heritage of Humanity by the UN Educational, Scientific and Cultural Organisation, Unesco.
"It makes us feel very proud; finally a fundamental heritage of Uruguayan culture has been recognized and is a tribute to the talent and cohesion spirit of Uruguay's Afro descendents", said Hugo Achugar, from Uruguay's Culture Ministry.
The Candombe dance is a fusion of various African traditions with a colorful choreography and blend of rhythms that is deeply rooted in Uruguay's folklore, particularly during the Carnival celebrations.
Mario Silva a member of the local Mundo Afro organization which promotes the culture and rights of Afro descendents in Uruguay said he was "very pleased" with the Unesco announcement underlining that "it is an acknowledgement of a culture which has given identity and relevance to Uruguay".
He added that candombe is a heritage that belongs to all the Uruguayan community, "this is very positive because it will generate further initiatives from government and the society not only from an artistic point of view but as a socio-cultural phenomenon because camdombe has long ceased to be an expression limited to the Afro community, it has vigorously spread to the rest of Uruguayans".
The camdombe identity lies in that throughout the Americas only Montevideo, Uruguay, actively cultivates this African beat, while it is common in West Africa, and could be recognized even today for what it is: a beat that calls forth people: Las Llamadas (The Calling).
From a musicological point of view, it represents the southernmost expression of African music in the Americas, and has been so for centuries. In the third decade of the nineteenth century the word candombe began to appear in Montevideo, referring to self-help dancing societies founded by persons of African descent. The term means "pertaining to blacks" in Ki-Kongo.
Typical Montevideo Carnival celebrations with candombe are performed by a group of drummers called a "cuerda". The barrel-shaped drums or "tamboriles" have specific names according to their size and function: "chico" (small, high timbre, marks the tempo), repique (medium, syncopation and improvisation) and piano (large, low timbre, melody). An even larger drum, called bajo or bombo (very large, very low timbre, accent on the fourth beat
A cuerda at a minimum needs three drummers, one on each part. A full cuerda will have 50-100 drummers, commonly with rows of seven or five drummers, mixing the three types of drums. A typical row of five can be piano-chico-repique-chico-piano, with the row behind having repique-chico-piano-chico-repique and so on to the last row.
Tamboriles are made of wood with animal skins that are rope-tuned or fire-tuned minutes before the performance. They are worn at the waist with the aid of a shoulder strap called a tali and played with one stick and one hand. A key rhythmic figure in candombe is the clave (in 3-2 form). It is played on the side of the drum, a procedure known as "hacer madera" (literally, "making wood").
A full candombe group, collectively known as a "comparsa", comprises the cuerda, a group of sculptural female dancers known as "mulatas" and several stock characters, each with their own specific dances. The stock characters include: La Mama Vieja ("Old Mother"), the matriarch; El Gramillero ("Medicine Man"), Mama Vieja's husband, responsible for health and well-being and El Escobero Escobillero ("Stick Holder"), who carries a long magical wooden stick that he uses to create new ways and possibilities for the future.
Candombe is performed regularly in the streets of Montevideo in January and February, during Uruguay's Carnival period, and also in the rest of the country. All the comparsas, of which there are 80 or 90 in existence, participate in the massive Carnival parade called Las Llamadas ("the calls") and later in an official competition at the Summer Theatre sponsored by Montevideo city government.
During Las Llamadas, members of the comparsas wear colorful costumes and make up that reflect the music's historical roots in the slave trade, such as sun hats and black face-paint.
Montevideo's long Afro tradition is rooted in the fact it was the only Atlantic port in Spanish colonial times chartered to trade with slaves.