Fidel Castro supports Norwegian academy on Nobel prize for Obama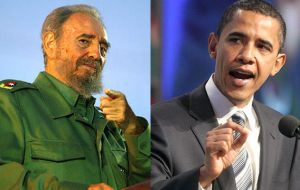 Former Cuban leader Fidel Castro praised the awarding of the Nobel Peace Prize to US President Barack Obama, saying it was "a positive measure" that was more a criticism of past US policies than a recognition of Obama's accomplishments.
Castro said the prize made up for the blow Obama suffered last week when the International Olympic Committee awarded the 2016 Summer Games to Rio de Janeiro after Obama had flown to Copenhagen to pitch for Chicago, his adoptive hometown.
The Nobel Committee announced Friday that Obama had won the peace price for his "extraordinary efforts to strengthen international diplomacy and cooperation between peoples".
The decision prompted surprise in many quarters and anger from Obama's conservative foes in the United States. But Castro, who has generally written positively about Obama, was pleased at the decision by the committee.
"I don't always share the positions of that institution but I'm obligated to recognize that in this instance it was, in my judgment, a positive measure," Castro wrote in a column published in state-run media.
"Many will say that he still hasn't earned the right to receive such distinction. We prefer to see in the decision, more than a prize for the president of the United States, a criticism of the genocide policies that not few presidents of that country have followed."
Such policies, Castro said, had "brought the world to the crossroads where it finds itself; an exhortation for peace and the search for solutions to assure the survival of the species."
Fidel Castro's comments were part of a long piece entitled "The Bell Tolls for the Dollar" in which he said the US dollar was losing its position as the pre-eminent world currency.