Gorbachev says the world was a safer place during the Cold War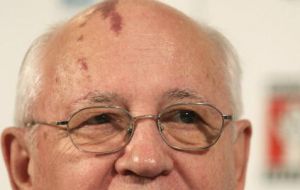 Mijail Gorbachev, the last leader of the defunct Soviet Union said that the "world was a safer place during the Cold War" and warned that the major current risk to the world is the proliferation of nuclear weapons.
In an interview with the Brazilian press and speaking on the twentieth anniversary of the fall of the Berlin Wall Gorbachev, (79), said "nuclear proliferation is the main threat to the world" adding that at the time (1989) the world lost "the great opportunity to demilitarize and put an end to nuclear weapons".
"The Berlin wall not only divided Germany, it was a pit between two worlds and when it went down, the path was open to build a new Europe and that was what happened. But the solution for a critical issue was not achieved, we couldn't make the world a safer place; we lost a historic opportunity".
Gorbachev said the West insists in describing the fall of the Berlin Wall as a "victory for one of the sides of the Cold War, but I ask, what kind of victory was that?"
"There's a real threat of an arms race in the world which the end of the Cold War did not solve. Twenty years later we still have thousands of atomic war heads and even new nuclear powers", underlined the Soviet leader deposed in 1991.
"Now a day we do not have a safer world and the main danger undoubtedly is the proliferation of nuclear weapons. It is possible that this proliferation is in the hands of actors out of the control of States, such as terrorist and fundamentalist organizations. Currently we can say that there are 40 countries in the world with a nuclear potential" emphasized Gorbachev.
For six years the former Secretary general of the Soviet Communist Party, and instigator of the "perestroika" reforms, the main challenge facing the world is the fact that the five leading nations, which acknowledge having nuclear weapons, (China, US, UK, France and Russia) "do not accept a real reduction of their atomic arsenals".
"This leaves other countries with no incentive to get rid of their own nuclear programs. If the great nations reduce their arsenals, the others would not have excuses or where to hide them", concluded Gorbachev to the Brazilian media.