Falklands' confirmed as first overseas deployment for Typhoons
Saturday, October 17th 2009 - 05:30 UTC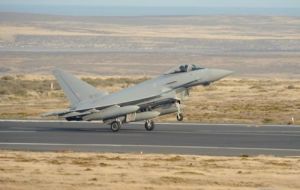 The first UK Typhoons to be deployed overseas have reached the Falkland Islands having flown from RAF Coningsby in Britain. They will take over Quick Reaction Alert (QRA) duties from Tornado F3s that will return to Britain later this year.
Sqn Ldr Rich Wells and Flt Lt James Bolton made RAF history by flying the state-of-the-art high tech jets for 18 hours from the UK to the Mount Pleasant Complex (MPC), stopping off at Ascension Island located in the middle of the Atlantic Ocean.
During the trip the pair were accompanied by air-to-air refuelling tankers (VC10s and Tristar), and as they flew into Mount Pleasant they were joined by two F3s from 1435 Flt and a Hercules.
Sqn Ldr Rich Wells, the first to land, said: "I think both of us are incredibly proud especially as it was a Typhoon first."
Two more Typhoons are expected to join the first two, to take over from the four Tornados of 111 Sqn based at RAF Leuchars.The Tornado F3 fleet is to be taken out of service in 2011. They have been in service in the Falklands for 17 years.
A Typhoon advance party was flown into the Falklands prior to the aircraft's arrival and engineers drawn from the Typhoon Squadrons at RAF Coningsby are also now at the MPC ready to look after the aircraft.
The Typhoon has now taken on the QRA duties for the British Forces South Atlantic Islands (BFSAI) and police the skies above the Falkland Islands.
Officer Commanding 905 Expeditionary Air Wing (EAW) Wing Commander Dick Knight said: "The challenges have been making sure we have got it right for when Typhoon arrived. We will find out whether we have done that in the next few months. There has been a lot of planning in getting Typhoon down here, and the crews from Coningsby, and working through that process. It is basically four aircraft in and four out. We hope to get through the transitional process as quickly as possible".
He added that "the RAF prides itself on getting to a location, setting up rapidly and flying in an expeditionary nature".
The Eurofighter Typhoon has entered service with the air forces from UK, Germany, Italy, Spain, Austria and Saudi Arabia.