FIFA orders disciplinary investigation into Maradona's comments
Saturday, October 17th 2009 - 10:32 UTC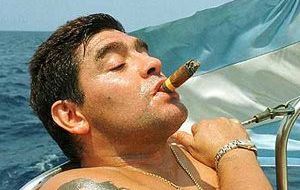 FIFA president Joseph Blatter announced Friday from Cairo that the disciplinary committee of the world organization would open a case on Argentine coach Diego Maradona's comments following the qualifier victory over Uruguay last Wednesday.
"There's no alternative but to ask the disciplinary committee to open a case on Mr. Maradona. If it were another coach or player, the matter would not have had such importance", said Blatter.
Following the match which Argentina defeated Uruguay 1-0, Maradona delivered a expletive-laden tirade, broadcast on live TV, directed at reporters and critics whom he claimed had shown no confidence in his work.
"This is for those who didn't trust this team and for those who treated me as garbage. We're in the South Africa World Cup; with nobody's held and with all honours. Those who didn't believe in me suck it…" he told most of the Argentine media at the press conference following the match.
Blatter from Cario said that Maradona could have breached article 58 a), but "that's up to the disciplinary committee, and is as far as I can go".
Article 58 a) states that "anyone who offends the dignity of a person or group of persons through contemptuous, discriminatory or denigratory words or actions concerning race, colour, language, religion or origin shall be suspended for at least five matches".
But Blatter also tried to appease the situation: "everybody knows he's a temperamental person and he's already said he won't speak like that again".
Maradona has since appeared on Argentine radio and television but has refused to apologize to the press for his outburst.
"I don't have to apologise" he told a Buenos Aires radio. "All I was doing was reacting to all those people who have spoken out against me. That's as far as it goes".
"I'm not going to perform a U-turn. Everyone knows what has been said. It seems to me that a lot of journalists wanted the national team not to qualify for the World Cup finals. For me, that's anti-Argentine and is something I can't forgive."
But on Friday he told TyC Sports television: "I apologise to women, to my mother, to Argentine women, to Uruguayan women and to women throughout the world. But only to them, not the others".
Adored by Argentines for his 1986 World Cup performance and his outstanding career, his private life has been complicated, as has been his recent experience as coach of the Argentine national team.
He had to endure a historic 6-1 defeat in Bolivia and a 3-1 home loss to Brazil and fans begun fearing Argentina might not make it to South Africa.
Going into the final two qualifying matches a poll showed that the majority of Argentina fans thought Maradona was unfit to coach the national team, but in the end Argentina won both games to book their ticket to South Africa.
But Maradona admitted that he's not certain he would continue with the Argentine national team. "That has to be decided in talks with AFA president Julio Grondona".