Argentina, Paraguay pledge to save what is left of the Atlantic Forest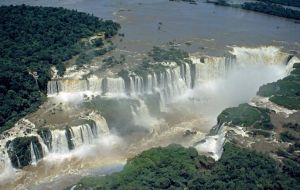 Argentina and Paraguay have made a historic pledge to save one of the world's most threatened forests. During a special ceremony at the XIIIth World Forestry Congress, the two governments agreed to work towards zero net deforestation in the Atlantic Forest, and to implement a package of measures that include national legislation to enforce those commitments.
The Atlantic Forest initially spanned 500,000 square kilometres, shared between Argentina, Brazil, and Paraguay. However, only 7.4% of the forest is left today – or about 35,000 square kilometres, making it one of the most threatened and fragment subtropical forests in the world.
To preserve the Atlantic Forest, Argentina will implement new land-use plans that will ensure the conservation of approximately 1.1 million hectares of the forest. Meanwhile, Paraguay has extended the country's zero deforestation law to 2013, and is working to introduce economic alternatives to people who depend on the Atlantic Forest for their livelihood.
In Brazil, the government already has established a zero deforestation target by 2010 for the Atlantic Forest. Brazil also has pledged to establish protected areas covering at least 10% of the forest.
"This important commitment shows how coordinated policies between countries can address biodiversity loss and stop runaway climate change," said Diego Moreno, Director General of Fundación Vida Silvestre, a WWF partner organization in Argentina.
"We can, as developing countries, make efforts to address this problem, but we need a strong climate deal in Copenhagen in December that can help with the implementation of these policies and contribute to the sustainable development of our region," Moreno said.
Agricultural expansion, construction, growth of cities, and non-sustainable exploitation led the forest destruction. The Atlantic Forest is home to more than 20,000 plants species – of which 8,000 can be found nowhere else – and 1,000 bird species, 372 amphibians, 350 types of fish, 197 types of reptiles, and 270 mammals.
The Atlantic Forest borders major cities such as Rio de Janeiro, Sao Paulo, and Asuncion, and also provides freshwater to millions of people. In addition, the forest houses the world-famous Iguazu Falls, on the border of Brazil and Argentina.
Despite conservation efforts, global deforestation continues at an alarming rate – 13 million hectares per year, or 36 football fields a minute. It generates almost 20% of global greenhouse gas emissions and halting forest loss has been identified as one of the most cost-effective ways to keep the world out of the danger zone of runaway climate change
The announcement came as WWF challenged global leaders at the Congress to support a target of zero net deforestation by 2020.
"This is a global benchmark to avoid the looming climate change catastrophe and curb the current alarming loss of species," said WWF International's Forests Director Rodney Taylor.
The world forestry congress is taking place in Buenos Aires.