China launches stock market to help finance new industries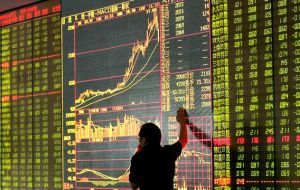 China is launching its long-awaited Nasdaq-style stock market in the southern city of Shenzhen. Twenty eight small- and medium-sized enterprises are expected to debut on the new exchange.
It is designed to attract financing for new industries with the potential for high growth.
Only recently have the economic conditions been judged right for mainland China to launch a new stock market, its third.
The Growth Enterprise Market, or Gem as it is already being called, was in the planning for more than 10 years.
It is designed to attract funding for the kind of innovative enterprises the government wants to nurture here - software companies, pharmaceutical firms and creative industries.
Gem's focus on these new industries has drawn comparisons with New York's Nasdaq exchange, although with less than 30 expected to list in Shenzhen it is a fraction of the size of the US exchange which lists nearly 4,000 clients.
Zeng Xi from the Shanghai law firm Tian Yuan, one of the first to advice companies planning to list on the new exchange, says it will be some time before the new board can compete with others in Hong Kong or New York for business.
"While the intention is to build this Gem market to compete with Nasdaq or other overseas companies, the reality may be slightly different because we still have a long way to go to catch up in terms of corporate governance, the listing standard and overall system supervising this market to make it successful," he said.
China's financial industry regulator has warned investors that because there will be a small number of companies on the board they may be vulnerable to jumps and slumps.
They are higher risk investments in part because their small size means it may be harder to work out whether or not they are genuine viable businesses.
Many Chinese, though, may regard the higher risk as worth it if the potential returns are big enough.
There are very few opportunities in China for people to invest, so the Gem will be a welcome new option for those keen to try their luck and make more money.