Uruguayan ruling coalition retains majority in next Parliament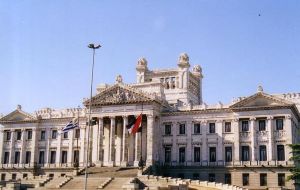 Uruguay's ruling coalition obtained 47.49% of the vote in last Sunday's general election according to the primary vote count from the country's Electoral Court, thus confirming a run off for the presidential office at the end of November.
Whatever the outcome of the run off between the incumbent ticket of Jose Mujica/Danilo Astori and Luis Alberto Lacalle/Jorge Larrañaga, the ruling coalition retains the majority in Parliament with 16 out of thirty Senators, and 50 Deputies out of 99 members in the Lower House.
The main opposition National party received 28.53% of the vote; the junior opposition Colorado party 16.66%, the Independents 2.44% and others 4.87% (this includes blank, spoilt and "observed" votes belonging to staff and security personnel at the voting booths).
The votes for the National party will represent 9 Senators and 31 Deputies; for the Colorados, 5 Senators and 17 Deputies and the Independents two seats in the Lower House.
This means that with the exception of special majorities (two thirds or three fifths) the ruling coalition, if it remains united, will have the necessary votes to pass legislation initiatives.
Although the Electoral Court still has to come up with the final vote count (possibly in a week's time) percentages are expected to remain.
With these percentages in the first round, former guerrilla leader and ex Agriculture Minister Jose Mujica, and his running companion, economist Danilo Astori seem almost certain to win the run-off and thus become the next president and vice-president of Uruguay.
However some interesting facts can be extracted from this first official vote count: for one contrary to what was expected the Broad Front managed to win in several departments (provinces) which were believed to be strongly under the National party control.
The Broad Front was forecasted to win handsomely in Montevideo and neighbouring Canelones where more than half of the country's population lives, while in the rest of the country the opposition, closely linked to farmers and agriculture activities was expected to have the lead.
But the ruling coalition obtained a majority of votes not only in Montevideo and Canelones but also in nine other provinces out of nineteen. The opposition National party won in the remaining eight.