"Scientific route" one of this season's amenities at Torres del Paine Park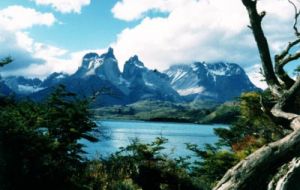 The Chilean National Service of Tourism (SERNATUR) in November will open a new route through the Torres del Paine National Park, in Chile's Patagonia, that will offer geologic and physical information about eleven specific sites within the park.
The 11 sites along the new trail, dubbed a "scientific route," are distinct geologic sites within the park and each will have a marker detailing the site's scientific importance, according to SERNATUR Director Cristian Miranda. The new trail is being created to cater to tourists with special interests in geology and archaeology.
A few of the 11 sites include Grey Glaciers, Milodon Cave and—according to Miranda, the most important—the Torres del Paine. Both sedimentary and igneous rocks compose Torres del Paine. The most easily spotted is granite, a common igneous rock found all over Torres del Paine. Sedimentary rocks composed of clay are generally found on top of the granite.
Earlier this month the Chilean Parks Administration (CONAF) announced an increase in fees to enter the Torres del Paine National Park. Foreign visitors now must pay 15,000 Chilean pesos (US$27) each time they enter the park grounds.
According to CONAF administrators, the park fee had not been raised since 2005.
By Allison D. Morris - Santiago Times