Argentina's Air Force Antarctic Marambio base celebrates fortieth anniversary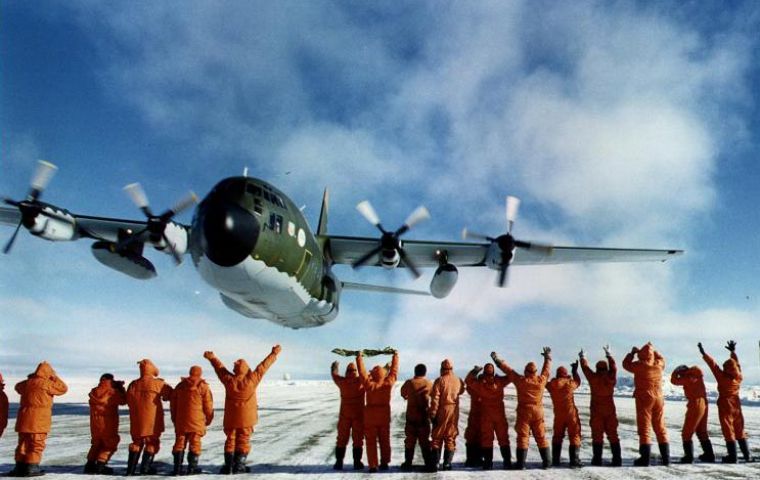 The Argentine Air Force commemorated on Thursday October 29 the fortieth anniversary of Air Base Vice-Commodore Gustavo Marambio, Argentina's main logistic support in Antarctica which has seen uninterrupted activity since then.
"Permanent Gateway to Argentine Antarctica" reads a sign next to the 1.200 metres air strip which operates the whole year round and can receive some of the heaviest aircrafts flying into Antarctica.
Started in October 1969 it carries the name of one of Argentina's pioneers in flights to Antarctica, Vice-Commodore Gustavo Marambio. With 21 men from the Air Force, limited equipment and adverse conditions the air strip, 200 metres above sea level was started in August and became operational on October 29th.
The base is located at the Marambio Island (former Seymour) of the "Argentine Antarctic sector" in the Weddell Sea 64o. 14' South and 56o West, 2.800 kilometres from the South Pole.
Base Marambio receives regular Hercules C 130 flights which are the permanent link with the continent. The Argentine Air Force duty is to ensure the logistics and technical maintenance of the airstrip which facilitates communications with the net work of bases in Antarctica.
Currently under Vice-Commodore Enrique Videla, it has sixty people living the year round and this time includes two women, one a meteorologist and the other an air comptroller.
Winter temperatures fall to minus 30 Celsius with 120 kilometres winds. In summer the base lodges up to 200 people, mostly scientists and researchers, and has as support aircrafts one Twin Otter and two Bell 212 helicopters.
Marambio base was recently honoured with the first Prize to Ecological Behaviour (Eto-ecology) awarded by the Climate Change, Environment and Sustainable Development Committee from the Civil Society Consulting Council which operates in the framework of the Argentine Foreign Affairs ministry.
According to the official release the Argentine Air Force has been linked to Antarctica since 1951 when flying an old British manufactured Avro Lincoln, named "Southern Cross" it crossed the Drake Passage and parachuted supplies to the "General San Martín" base. The aircraft was under the command of Vice-Commodore Gustavo Marambio.