Chilean Central bank could begin hiking interest rate next second quarter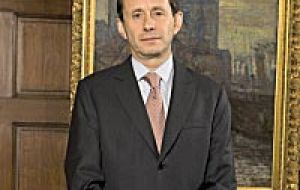 The Chilean central bank will likely begin hiking the benchmark interest rate, currently at a record low 0.5%, in the second quarter of next year, according to the minutes of its October monetary policy meeting released Wednesday.
At its October monthly meeting, the central bank's five-person governing council unanimously voted in favor of leaving its key rate unchanged and to continue with so-called complementary measures.
In the first seven months of the year, the bank aggressively slashed the benchmark overnight rate, known as the TPM, by an unprecedented total of 775 basis points from 8.25% in December. In addition, in July, the bank announced complementary measures, including a 90- and 180-day line of credit for financial institutions and the suspension through the end 2009 of several short-term bond issues.
According to the minutes, one council member said withdrawing the current monetary stimulus prematurely "could be particularly expensive as it would force an early reversal of monetary policy."
Hiking rates too soon as expected by the market, isn't in line with recent economic data, another council member said. He added it was especially important to highlight the message that rates would remain low for a prolonged period.
In remarks made at a presentation last week, central bank president Jose De Gregorio warned the market was premature in anticipating rate increases in the first quarter of 2010 and reiterated the bank's outlook of slowly beginning to hike rates in the second quarter.
Consumer prices rose 1% in September from August, the fastest pace this year. Chile has had eight months of deflation since October 2008, but according to one of the bank's directors the higher-than-forecast September inflation reading highlighted volatility in the monthly index because of new methodology introduced by the National Statistics Institute at the start of 2009.