"Oasis of the Seas" with its 2.700 cabins on maiden voyage to Florida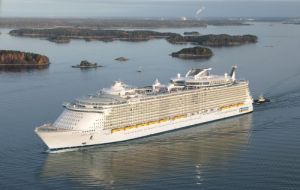 The world's largest cruise liner began Friday its maiden voyage to Florida, gliding out from a shipyard in Finland with an amphitheatre, basketball courts and an ice rink on board. The 16-deck Oasis of the Seas spans 360 metres from bow to stern. Its 2,700 cabins can accommodate 6,300 passengers and 2,100 crew.
Commissioned by Royal Caribbean International, the ship cost Euro1 billion (1.5 billion USD) and took two and a half years to build at the STX Finland Oy shipyard in Turku, south-western Finland.
The liner has four swimming pools, volleyball and basketball courts, and a youth zone with theme parks and nurseries for children. There is also an ice rink that seats 780 spectators and a small-scale golf course.
It features various "neighbourhoods", parks, squares and arenas with special themes. One of them will be a tropical environment, including palm trees and vines among the total 12,000 plants on board. They will be planted after the ship arrives in Fort Lauderdale.
In the stern, a 750-seat outdoor theatre, modelled on an ancient Greek amphitheatre, doubles as a swimming pool by day and an ocean front theatre by night. The pool has a diving tower with spring boards and two 10-metres high dive platforms. An indoor theatre seats 1,300 guests.
Accommodation includes loft cabins measuring 545 square feet (51 square meters) with floor-to-ceiling windows. There are also 150 square metres luxury suites with balconies overlooking the sea or promenades.
One of the "neighbourhoods," named Central Park, features a square with boutiques, restaurants and bars, including the "Rising Tide" bar, which the shipping line describes as "the first moving bar at sea." It moves up and down three decks, allowing customers to get on and off at different level promenades.
Engineers at shipbuilder STX Finland said environmental considerations played an important part when planning the vessel, which dumps no sewage into the sea, reuses its waste water and consumes 25% less power than similar, but smaller, cruise liners.
"I would say this is the most environmentally friendly cruise ship to date," said Mikko Ilus, project engineer at the Turku yard. "It's much more efficient than other similar ships."
The liner was due to make its US debut on November 20 at its home port, Port Everglades in Florida and will be officially named on Nov. 30. It will embark on its first cruise _ a four-day trip to the port of Labadee in Haiti _ on December first.
STX Finland is building a sister ship _ Allure of the Seas _ for Royal Caribbean which is due to be launched in 2011.