Chinese company buys oil assets in the US for the first time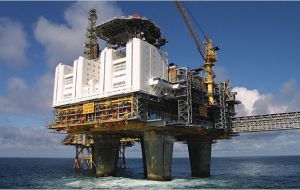 Chinese energy giant China National Offshore Oil Corporation (CNOOC) has bought oil assets in the US for the first time. CNOOC purchased limited stakes in four deepwater exploitation licences in the Gulf of Mexico from Norway's Statoil. The size of the deal is secret, but Statoil said it was small.
In 2005, an 18.5 billion US dollars CNOOC bid for US energy firm Unocal was withdrawn amidst concerns over the sale of strategic assets to China.
But with the credit crunch slowing down offshore oil exploration, opposition to Chinese investors is now less likely, the Wall Street Journal said last month.
Statoil said it had acquired the US licences over the past two years, and added that it would remain the operator of the licences. CNOOC will now control 20% of the Tucker prospect and have a 10% stake on the licenses of the Krakatoa, Cobra and Logan blocks.
"In the Gulf of Mexico, it is customary to optimise the portfolio and spread risk involved in exploration drilling efforts," Statoil's spokesman said.
In its earnings statement on Wednesday, Statoil firm reported a 13.9% rise in profits, largely due to financial items including currency effects, but voiced caution about the prospects for an economic recovery.
"Although we see signs of improvement in the global economy, there is no firm evidence that industry investment, employment and private consumption have recovered in a sustainable way," chief executive Helge Lund said.