"The main credit for the fall of the Berlin Wall belongs to Pope John Paul II"
Tuesday, November 10th 2009 - 08:29 UTC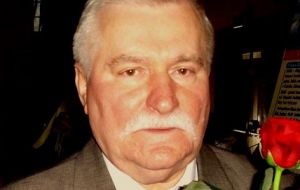 The main honour and credit for the fall of the Berlin Wall belongs to Pope John Paul II and it is wrong to say it was the work of former Soviet president Mijail Gorbachev said the historic leader of Poland's Solidarity movement and later head of state Lech Walesa
"What makes me sad today is that we are making heroes out of people who do not have such a condition", said Walesa over the weekend interviewed by German television and in anticipation of Monday's celebrations on the 20th anniversary of the fall of the Wall.
"Gorbachev never wanted to see the end of communism or the Berlin Wall, that was not his way of seeing things", added Walesa.
"The truth is that 50% of the fall of the Wall belongs to John Paul II, 30% to Solidarity and Lech Walesa and only 20% to the rest of the world. That was the truth then and is the truth now. The Soviet leader might have changed later".
Polish born Pope John Paul II called on the peoples of Europe "to change the face of the world and his message liberated the people who then forced politicians to sanction changes", underlined Walesa.
The Nobel Peace Prize winner also explained why the 30% for Solidarity.
"The first wall to fall was pushed over in 1980 in the Polish shipyards. Later, other symbolic walls came down, and the Germans, of course, tore down the literal wall in Berlin. The fall of the Berlin Wall makes for nice pictures. But it all started in the Gdansk shipyards".
As to his presence in the celebrations he said "I am a politician who played an important role in the reunification of Germany and I was invited to take part in the celebration. It's not like a piece of candy handed out to a sweet little boy".