OAS Insulza admits frustration with the stalled Honduras situation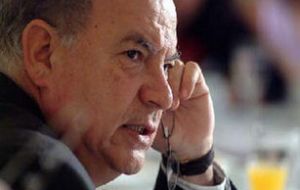 Organization of American States Secretary General Jose Miguel Insulza said he was not sure the two sides involved in the Honduras crisis would resume dialogue and discarded any idea of sending OAS observers for the scheduled presidential election at the end of November.
"It's hard to see how dialogue can resume" between ousted President Manuel Zelaya and the de facto regime, said Insulza during an OAS extraordinary meeting to address the issue held on Tuesday.
Insulza revealed he had been earlier on the phone with President Zelaya who said "he was not willing to return to discussions" with the de facto government headed by Roberto Micheletti.
"Our decision regarding the election is something we can't even consider…since from a political point of view there are no conditions to send a mission of electoral observers to Honduras", added Insulza in reference to the de facto regime request for the coming election.
OAS forms part of the verification mission which is one of the points included in the agreement reached between both sides of the dispute last October 30 with the purpose of breaking the deadlock and working for a solution.
According to the so called Tegucigalpa/San Jose agreement, sponsored by the OAS and the United States, Mr. Zelaya has to be reinstated following the approval of Congress and the establishment of a unity and reconciliation government.
But because of misunderstandings and different interpretations the agreement has not been implemented.
Meanwhile in Tegucigalpa the de facto regime requested Congress to vote on the reinstatement of president Zelaya.
"We are requesting the National Congress to decide, even when we know there's no fixed date for the reinstatement of former president Zelaya", said Vilma Morales, spokesperson for the de facto regime.
However Congress president Jose Alfredo Saavedra recalled that before a vote is taken the Supreme Court and other institutions must have their say in the issue
The 12 points agreement establishes that Congress consider "reinstating to office the head of the Executive to the situation previous to June 28th until the conclusion of the current mandate January 27th 2010".
On June 28th Zelaya at gun point and following orders from the Supreme Court was taken out of office and flown to neighbouring Costa Rica by the Honduran military.
However the agreement did not fix dates and congress is currently in recess until after the November 29th election. Furthermore it also states that the Supreme Court, the Office of the Attorney General, the Office of the Public Prosecutor and Human Rights Commissioner are consulted on the matter for which there is no timetable.
"It's not our fault that the agreement states that the Supreme Court must be consulted", added Saavedra.
Zelaya insists no understanding is possible until he is reinstated in office.