Brazilian military launch Operation Lasso with the Itaipú dam in mind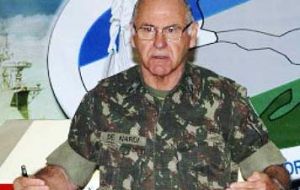 Brazil launched Sunday military exercises involving the three services and located in three states next to landlocked Paraguay with the "main target" being the recovery of a bi-national hydroelectric dam that has fallen into the hands of an enemy country.
According to the NGO defesa@net the purpose of such a huge mobilization of personnel and resources in such a hypothetical scenario is to send "a strong message to Paraguay".
"The exercise will be the greatest simulation of a major conventional conflict in Latinamerica. The strategic hydroelectric dam 'Itá' has been occupied by strategic forces in a conflict between a "green" and a "yellow" country", points out Kaiser Konrad in the portal.
A total of 8.000 men from the Brazilian Army, Navy and Air Force will be deployed until November 27th under General Carlos De Nardi.
"We are training our people for dissuasion, so that nobody trespasses our frontiers", General de Nardi was quoted.
Under the conflict hypothesis the Green Country (allegedly Brazil) and the Yellow Country (allegedly Paraguay) are forced into conflict.
Social unrest, populist speeches, emptying of fuel resources cause serious energy problems in the Yellow country which then threatens and challenges the Greens.
The Green country with support from United Nations declares war and a strategic battle begins with simulation of air bombings to eliminate the enemy Air force.
In the middle of the conflict the bi-national hydroelectric complex "Itá" jointly belonging to the Green and Yellow countries becomes an objective, since it supplies a significant percentage of the Green energy demand, particularly to its main cities and industrial hubs.
The coordinated action of the Green country with support from the UN is so successful that in a few days the Yellow country surrenders.
The operation "Lasso" was officially unveiled to the Brazilian press last week at the Headquarters of the Brazilian Southern Military Command with the presentation made by the head of the southern command and of the theatre of operations.
In real life Brazil and Paraguay share the Itaipú dam, the largest operational hydroelectric complex in the world, and both countries have been discussing new terms for the surplus energy which the smaller partner can't absorb but under contract conditions can only sell to the senior partner.
Millions of dollars for Paraguay, one of South America's poorest counties, and cheap energy for Brazil, the world's ninth economy, (and hopefully the fifth in the next ten years according to President Lula da Silva) are at stake with the ongoing controversy.
The significance of Itaipú was shown during the recent blackout when over 70 million people and 18 states of the Brazilian union were left in the dark when Itaipú had to be shut down following failures in the transmission lines.