Chavez ready to bombard clouds, with Cuban help, to force rainfall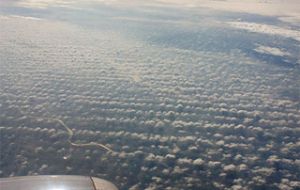 Venezuelan president Hugo Chavez announced he will begin bombarding not Colombia, but the clouds so as to trigger much needed precipitations to help fill up dams and reservoirs, at record low levels, and which have forced water and power rationing.
Chavez who has called on the population to follow his example of showering in three minutes, banning Jacuzzis and using a torch when going to the toilet at night, said the task will be addressed with the help of equipments and technicians from Cuba.
"They have arrived with special equipment and we are already mounting them on our Hercules aircraft and will begin the bombardments any moment", announced Chavez during a weekend political rally.
"I'll be on one of the aircraft and cloud I come across, I'll attack her with lightning so we can have rain", said the president of the oil rich country where a litre of drinking water is scarcer and dearer than filling with gasoline the tank of a compact car.
Chavez is blaming the current water rationing, (at least twelve hours per day in Caracas and other main cities) plus blackouts (at any moment in spite of a daily outage timetable) on the El Niño climatic phenomenon, increase in demand and waste.
However the opposition claims the reasons can be tracked to the nationalization of the electricity companies back in 2007 and the lack of investment, maintenance and infrastructure.
Given the growing ill feeling among the population with the blackouts and rationing, and given the closeness of legislative elections in 2010, when Chavez hopes to retain the majority, he has created a special ministerial office to address the water and power emergencies.
Weather forecasts indicate that there are at least three dry months before the rainy season returns to the Caracas area of influence when there should be sufficient water to fill all reservoirs and dams.