The Mujica couple, if confirmed, promise an "austere and sober" government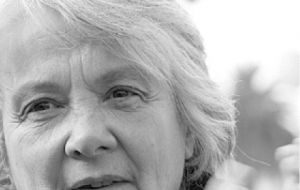 Senator Lucia Topolansky, who would become Uruguay's First Lady if her husband and incumbent presidential candidate Jose Mujica is confirmed in the run-off on November 29th promises to keep to an "austere and sober" style of government.
"This is something on which we will insist and feel proud about", said Ms Topolansky who was the most voted Senator last October 25th when the renewal of the Uruguayan Congress and the first round of the presidential race.
Uruguay's ruling coalition managed 48% of the vote in October thus ensuring control of Parliament but not the presidency since 50% plus one vote are needed. Anyhow the latest opinion polls have former guerrilla leader and ex Agriculture minister Mujica between seven and nine points ahead of his competitor, former president (1990/1995) Luis Alberto Lacalle from the National party.
Lucia Topolansky has an additional option to her Member of Parliament condition: given she was the most voted Senator of the winning party (the ruling coalition or Broad Front), she is third in the succession line.
This means that if her husband, (74) is finally elected president and for some reason has to step down, and similarly with his ticket companion economist Danilo Astori, who is also fringing on the seventies and had a lung and heart condition which kept him away from the June primaries, Lucia could become Uruguay's first woman president.
However she is concentrated on the last Sunday of November.
"If Lacalle wins we would face the worst possible scenario because a government can be bad, good or mediocre, but the worst is a locked-in government because the Executive and the Legislative belong to different parties and to different ways of seeing Uruguay's agenda", said Topolansky given the possibility that Lacalle finally is elected president and must rule with a parliament under control of the current ruling coalition.
But if Mujica wins "austerity and soberness are part of the teachings learnt" with her husband during the many years of militancy with the National Liberation Movement, Tupamaros, (MLN-T), which surfaced as violent guerrillas in the early sixties and helped to trigger as reaction a harsh military dictatorship (1973/1984) which had them jailed for over a decade in very tough conditions.
"In jail and while undercover you get to know the human being as he is", said Topolansky adding that the positive side was that you learn "happiness means very simple things such as friendship, family and the community".
The Senator which began her relation with Mujica as young undercover urban guerrillas said that "the MLN-Tupamaros group was born onto a Latinamerican generation under the impact of the Cuban revolution, the independence war in Algeria and the birth of Third World countries".
"We belong to that suffering and struggling generation", many of whose members now hold important positions in different Latam countries, as could happen with Mujica if he finally wins the run-off.
Asked to justify a possible repeat in the use of arms and violence to defend political ideas Topolansky replied that in politics "never say never".
"Political decisions must be analyzed in their context", she added.
Another interesting circumstance is that if her husband is finally elected, Topolansky as the most voted Senator and president of the Senate will be taking the oath to Mujica.
Topolansky said she was certain of her husband's victory and anticipated that his policies would be a continuation and intensification of President Tabare Vazquez administration policies.
"A second Broad Frong government is going to be even more prolific in benefits for the population, because we will be acting from a more solid base. We have before us an orderly, organized country", said Ms Topolasnky.
The former guerrilla praised her husband's communicator and negotiation capacity, underlining that Mujia undoubtedly is "one of the most popular figures in Uruguay".
She admitted her husband "has broken certain codes with his informality and his plain, straight way of communication which has enabled him to conquer the young voters".
"If the children voted in Uruguay, there was no doubt about his victory", she added pointing out that children see him as "a good loving grandpa".
As to the her duties as First Lady in the event of victory, Topolansky who is equally informal and simple in the way she dresses and moves around, pointed out that the post "was invented" by some wives of previous presidents "intent in imposing such a role".
Nevertheless if needed, she would equally play the part next to her husband as she did when Mujica was a street vendor, member of the Lower House and Senator.
"Protocol can be particularly boring, but if I have to get bored in the job, I will".
Mujica and Lucia live in the same modest farm in the outskirts of Montevideo where at one time, after having been freed on amnesty following the return of democracy to Uruguay, they grew flowers and vegetables to make a living.
Now fully involved in politics the Mujica couple does not have much time for growing flowers or street vending, but they have managed to purchase several plots of land in the vicinity which are exploited by groups belonging to their organization.