Regional conflicts call for urgent meeting of South American Defence council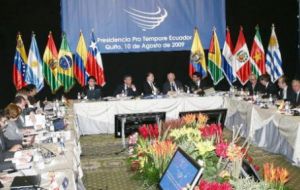 The Union of South American nations, Unasur, Defence Council will be holding an extraordinary meeting next Friday to address several serious problems involving country members announced the Ecuadorian Foreign Affairs ministry that will be hosting the event in the capital Quito.
"There is growing concern with the delicate situation involving some country members of Unasur", said a brief communiqué from Ecuadorian Foreign Affairs minister Fander Falconi, particularly "the political conflicts between Venezuela and Colombia and Peru and Chile".
The Venezuelan/Colombian relation has critically deteriorated because of differences on border and security issues, while in the other case, Peru has complained to Chile for alleged espionage by infiltrators in the Peruvian Air Force.
Falconi repeated earlier statements form President Rafael Correa who is pro tempore head of Unasur, and recalled that the group's Charter demands and guarantees, on unanimous approval, that South America is a "zone of peace".
"We wish to bring together all country members to work and find ways of solving our differences and the strengthening or our commitments to peace, security and harmony", adds Falconi in the release.
With this in mind "we have convened for next Friday November 27th, in Quito an extraordinary meeting of the South American Defence Council and of Foreign Affairs ministers" to address internal conflicts.
However regarding the Colombia/Venezuela case, Falconi points out that there is regional concern over the agreement signed by Colombia with the United States, which includes the use of seven Colombian military bases by US forces.
"Peace means the commitment from countries that agreements signed with out of the region States, do not affect the sovereignty of any of its members", adds the release.
Besides, "there is a legitimate concern in the region as to the extent of the Defence and Security Cooperation and Technical Assistance Complementary Accord" signed by Bogotá and Washington.
President Correa referred to the issue in his weekly Saturday report saying that the Defence Council will address the Venezuela/Colombia and Peru/Chile conflicts.
"The heart of the fact is that the Colombia/Venezuela differences are because we have seven US military bases in Colombia and that is a matter of concern for the whole region", said Correa.
Foreign Affairs and Defence ministers from all Unasur members are expected next Friday in Quito: Argentina, Brazil, Chile, Colombia, Ecuador, Guyana, Paraguay, Peru, Surinam, Uruguay and Venezuela.