Spain promises tangible results from EU/Mercosur trade talks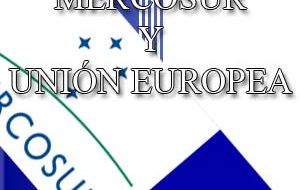 Spain wants to boost trade negotiations between the European Union and Mercosur when it takes over the pro tempore presidency of the block next January, according to Spanish diplomats quoted by Madrid's main daily El Pais.
"The Spanish government would like to see in the coming six months an agreement on minimums" from which to build on. Mercosur and the European Union have been holding discussions for an overall free trade and cooperation agreement for over ten years.
Last Tuesday during a meeting in Madrid representatives from both blocks agreed that "differences persist", but also expressed their commitment to reach an agreement "of minimums" during the Spanish presidency and if not "forget about the whole project"
El País said that Spain pretends to "put on stage" the boost for negotiations during the coming Ibero-American summit scheduled to begin next Sunday in Estoril, Portugal.
"We want to have a draft of the agreement ready for the European Union/Latinamerican summit to be held in Madrid, May 2010", said Spanish diplomatic sources.
The European Commission has suggested the first technical meetings should be held in December.
The negotiations between the EU and Mercosur were first launched in 1999 with the purpose of signing a bilateral trade agreement but were frozen in 2004 when they became conditioned to the Doha Round talks to liberalize global trade; since then the negotiation remains stalled.
However on Tuesday both sides agreed that since the World Trade Organization Doha round talks remain blocked, countries and blocks are searching for alternatives to re-launch trade opportunities, even when this means jumping from multilateral to bilateral understandings.
"Once negotiations are decoupled from the WTO Doha round, Mercosur and the EU can begin to advance" in their own discussions, said Paraguayan representative Manuel Maria Caceres.
The EU agrees that it is imperative to resume negotiations as soon as possible and is after "an ambitious accord" said Angel Carro, the European Commission director for Latin American affairs.
"Both regions are in need of new markets and are well prepared to address the crisis and Europe is loosing competitiveness in the region to emerging powers such as China", argue European delegates.
Europe is interested in greater access to Mercosur with its industrial produce and services while the South American block is calling on the EU to lower its agriculture tariffs and subsidies.
Argentina will be presiding over Mercosur during the first six months of 2010.