Argentina admits delay in bonds swap offer for holdouts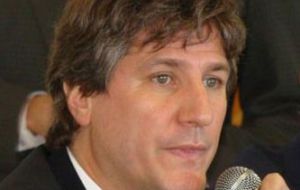 Argentina's planned offer to swap as much as 20 billion US dollars of defaulted debt to help it re-enter international credit markets for the first time since 2001 may be delayed until January, admitted Economy Minister Amado Boudou.
"If all the administrative work is completed, it will be done by the end of the year -- if there is a delay, it could get pushed back to January," Boudou told reporters in Buenos Aires.
Details of the offer to holders of bonds that weren't tendered in a 2005 debt restructuring, which paid investors about 30 cents on the dollar, are still being studied, added Boudou.
Last October 22 Argentina announced that a proposal put forward by Barclays Plc, Citigroup Inc. and Deutsche Bank AG, representing owners of about 10 billion USD in debt, was "a good base to start discussions."
President Cristina Fernandez de Kirchner can move forward on the debt swap after the Senate suspended rules that forbid the government from making a new debt offer. The restructuring will bolster investment and economic growth, Boudou said in a speech before Congress at the end of October.
The exchange would involve debt tied to the country's 2001 default on 95 billion USD in sovereign bonds, the biggest ever. Boudou has said that the offer will be "a little bit" worse than the original swap with holders of defaulted debt.