Cuba launches "Bastion-2009" preparing for "future US attack"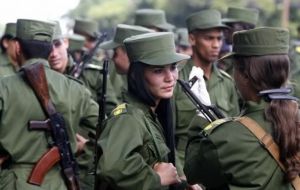 Half a century after a failed US-supported invasion of Cuba, the country announced it is holding a military exercise to boost preparedness against any future US attack. The official newspaper Granma said that the "Bastion-2009" exercises will "raise the deterrent capacity to prevent a military confrontation, under the principle that there is no better way to win a war than by avoiding it."
"It is a necessity of the first order given the political-military situation that now defines relations between Cuba and the empire," Major General Leonardo Andollo warned, referring to the United States.
The military exercise, Cuba's largest in five years and the first since Barack Obama's inauguration in January begins Thursday through Saturday, followed by Sunday's armed forces day to be marked nationwide.
The government of President Raul Castro, a long-time defence chief, expects that as many as four million Cubans (out of a total population of 11 million) may take part in Sunday's events.
Major General Ermio Hernandez, head of the military's directorate, said the exercise will involve tactical manoeuvres, command of ground troops, artillery practice and military flights.
Washington quickly recognized the new Fidel Castro government after the 1959 Cuban revolution, but by 1961 the US broke ties with Havana. In April that year, a 1.400-strong force of CIA-trained Cuban exiles invaded Cuba's Bay of Pigs -- a disastrous venture fatally compromised by leaky intelligence and poor execution.
A US trade embargo on Cuba begun in 1962 remains in place despite calls by every country in the Americas to have it lifted. However President Obama has largely abandoned the confrontational rhetoric with Havana that marked past administrations, and has sought to allow unlimited family travel and financial remittances from the United States to Cuba.