Venezuelan militias openly support Colombian guerrillas, claims Bogotá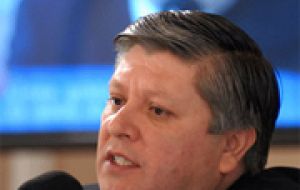 Colombian guerrillas are acting in border areas next to Venezuelan military forces according to a report from Colombia's ombudsman released this week. The report also indicates that at least 7.000 Colombians have returned from Venezuela in the last two months as a direct consequence of the bilateral crisis.
"Apparently personnel from Venezuela's armed forces are moving in vehicles towards Colombian territory with strong presence in the town of Herrán next to members of the Colombian guerrilla FARC forces", says the report, extracts of which were published this week in Bogotá's main daily El Tiempo.
The document also states that in another Venezuelan border town, El Amparo, the Colombian guerrilla force ELN (National Liberation Army) "has a permanent presence and influence, side by side with the so called Bolivarian militias, armed groups legally dependent from Venezuela's Ministry of Defence".
In the past President Hugo Chavez has described ELN and FARC groups as "Bolivarian forces" ideologically assimilating them, in spite of the fact that in Colombia they are described as "terrorists", a position supported by Washington and the European Union.
Last week the Venezuelan National Guard destroyed two foot bridges across the common border alleging they were used by the narcotics gangs and dealers.
Colombian president Alvaro Uribe said that the right path is "to have agreements at government level" to combat crime and "not the unilateral destruction of infrastructure which belongs to the whole community".
President Hugo Chavez in his usual weekly "chats with the president" program called his Colombian peer a "wretched character" unworthy of the wonderful people of Colombia "whom I love so much".
President Uribe and his hard line policy towards guerrillas and violence has turned him into the Colombian leader who has enjoyed the highest sustained public opinion support in the last four decades, never below 65%.
Ombudsman Volmar Perez also revealed that in the last two months, with all the anti Colombian diatribes from President Chavez, an estimated 7.000 Colombians, residents in Venezuela, have returned to the country threatened by the violence and war mongering atmosphere along the two countries border area.