China promises to continue playing a leading role in global recovery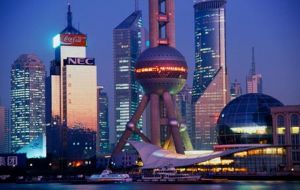 China will continue the proactive fiscal policy and moderately easy monetary policy next year, the Political Bureau of the Communist Party of China (CPC) Central Committee agreed Friday, reports the official news agency Xinhua.
Bureau members at a meeting chaired by President Hu Jintao, also general secretary of the CPC Central Committee, agreed the government would maintain continuity and stability in its macroeconomic policies.
The government vows "to improve policies to stabilize external demand, actively increase imports and encourage companies to invest overseas" said the statement. China's huge stimulus program has helped the global economy to begin recovering from the worst global recession in seventy years.
More efforts would be made to improve the quality and efficiency of economic growth, to promote the transformation of the economic development pattern and structural adjustments, according to a statement released after the meeting.
The meeting vows to enhance the focus and flexibility of economic policy next year according to new situations. It urges "to further carry out and enrich the economic stimulus package to make the economy grow in a more stable, balanced and sustainable way".
China's economy grew 8.9% year on year in the third quarter this year, accelerating from 7.9% in the second quarter and 6.1% in the first quarter. China has become the main trade partner for Latinamerican commodities from copper, oil to soybeans.
The statement also said that more efforts would be made to promote reform and opening up and innovation, enhance the vigour and momentum of economic growth so as to improve people's livelihood and maintain social stability.
During next year's economic work, the government would improve policies to spur consumption and ensure investment grow at a reasonable pace, it said.
The statement called for improvements and implementation of policies to encourage private investment as well as increasing support to sectors agriculture, science and technology, education, public health, culture, social security, energy saving and environmental protection.