Falklands' begins 2010 with a new Director of Community Safety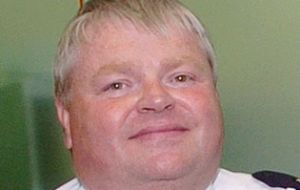 Chief Superintendent Gary Finchett, Northern Area Commander of Cheshire Police in the United Kingdom will be taking up the post of the Falkland Islands Director of Community Safety on 11 January.
According to a release from the Falklands' government the post includes the role of Chief Police Officer and Chief Superintendent Finchett will be taking over command of the Police from Superintendent Paul Elliot who stepped down on 27 November. In the in-between period Inspector Len McGill will be acting Chief Police Officer.
Chief Superintendent Finchett will also take on overall responsibility for the Fire and Rescue Service, Customs and Immigration and the Falkland Islands Defence Force.
In addition to ensuring essential improvements are achieved in the Police, he will take the lead on the Islands' emergency response and major incident arrangements, manage FIG's responsibilities for the security of oil operations and work with operational commanders to ensure that the services he is responsible for are as integrated as practicable and are cost effective.
Member of the Legislative Assembly with portfolio responsibility for community safety service Gavin Short said: "Gary is arriving at an important time with some major challenges ahead for us all. I am looking forward to working closely with him and all staff within these services to meet those challenges and ensure Falkland Islanders receive the very best services. I would like to thank Superintendent Elliot for his hard work and contribution to Policing on the Islands."
Chief Executive Tim Thorogood said "I'm very pleased that we've been able to appoint someone with such excellent credentials as Gary, who was selected from an impressive field of strong candidates. Under his leadership we should see good progress made from the foundations laid by Superintendent Elliot and be well placed to meet challenges such as oil security and emergency management. I wish Superintendent Elliot the very warmest wishes for the future."
Gary Finchett said "It is an honor and a privilege to be offered this position. My role is to ensure the provision of first class emergency and support services to Falkland Islanders to ensure they are safe and feel safe. Joined up working across a range of departments is key to driving out efficiencies and providing cost effective services to the community. I am looking forward to my new role and to working with Heads of Service, the Legislative Assembly and most importantly local people to further improve the quality of life of Falkland Islanders."