Mujica supports Lula da Silva government style and his Iran policy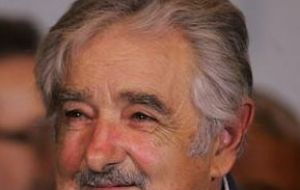 Uruguay's incumbent presidential candidate Jose "Pepe" Mujica again supported Brazilian president Lula da Silva's administration and policies, describing as a "genius move" the decision to receive this week in Brasilia the controversial Iranian leader Mahmoud Ahmadinejad.
"I think it was a genius action from Lula da Silva" said Mujica in an interview with the Brazilian daily Folha de Sao Paulo, when he argued it was a "gross mistake" of the international community to isolate Ahmadinejad.
"The more you fence in Iran, so much harder it will be for the rest of the world. What Lula da Silva is doing is something which I consider simply brilliant. Life has taught me that you can't surround, fence in someone. It's a mistake. This forces the other side to react, to fight back…The world does not need any more wars. It needs solutions, ways out to this kind of situations", underlined the former guerrilla leader.
Mujica according to the last public opinion polls released before the 48 hours ban, ahead of Sunday's Election Day, has an eight point lead over his competitor and former president Luis Alberto Lacalle.
If Mujica wins Sunday's run off with Lacalle, he will succeed President Tabare Vazquez the first leader of a catch-all coalition extending from radicals and Communists to Christian Democrats to rule Uruguay.
Mujica also revealed he had sent President Lula da Silva a message of "comradeship and hope" through the chairman of the ruling Workers Party from the southern state of Rio Grande do Sul, Olivio Dutra who visited him a week ago.
"I sent Lula a message of comradeship and hope. And that he should be prepared since we will be needing some kind of support from him", said Mujica who added he was confident that the Brazilian president handpicked candidate for next year, cabinet chief Dilma Rousseff wll be successful in her bid in October 2010.
"Let's hope so" said the former guerrilla when asked about the possibility that he should become Uruguayan president and Ms Rousseff leader of Brazil.
However he pointed out that the decision about Lula da Silva's successor in the Planalto Palace is something to be decided by the Brazilian people.
Ms Rousseff, of high middle class extraction and very formal Catholic education in the late sixties joined an incipient guerrilla movement in Brazil that was crushed by the Army a few years later.
She spent three (1970/73) years in jail where she admits having been "terribly tortured".
Mujica also spent fourteen years in jail for his guerrilla activities, and was finally freed in 1984, making in just two decades a spectacular political career which has him at the threshold of becoming at the age of 74, Uruguay's next president.