Mujica reaches out to the opposition and calls for political agreements
Monday, November 30th 2009 - 11:51 UTC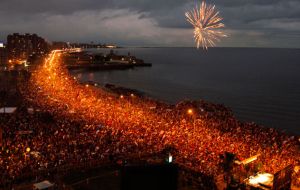 Jose "Pepe" Mujica, 74, from the ruling Broad Front coalition was confirmed Sunday as Uruguay's next president having defeated in the run-off 51.9% to 44.1%, Conservative candidate and former president Luis Alberto Lacalle.
In his victory speech former guerrilla leader Mujica, called for reconciliation, praised the opposition candidate and his followers for the formidable display, and promised "negotiations, negotiations as many times as possible" to reach political agreements, particularly on four/five basic areas (education, environment, security, energy).
"We are open to all understandings; we have no pre-conditions knowing agreements are not for ever and that political parties exist because they have different approaches to different problems".
"My government will be a government of open doors, and above all a negotiating administration", he reiterated. However "we will demand commitment, compromise and hard work".
Mujica also cautioned his voters whom by the thousands dared rain and wind to celebrate, that the fact "we have a few more votes, does not mean we are the owners of the truth, nobody owns the truth, so don't let it reach your heads. I'm old enough to know what I'm talking about".
"Let's get it straight, nobody is above nobody in this country" insisted Mujica.
With the elections behind, "we must look forward and nobody is a winner or a looser, we must all be committed to work and work hard".
With Mujica's victory this is the second running mandate for the Broad Front catch-all coalition extending from radicals and Communists to Christian Democrats and followers disenchanted with Uruguay's so called two "traditional" or "historic" parties that have existed since the birth of the country in 1830.
This is the second time the coalition will enjoy a clear majority in Parliament.
"We must admit this time it was easier (compared to 2004), our best political PR agent has been President Tabaré Vazquez and his very successful administration which we will try to continue and advance", underlined Mujica.
When asked about his past as a member of an urban guerrilla movement in the sixties and early seventies, followed by fourteen years in reclusion, most of them under a military government that ousted a legacy of weak but democratic and elected governments against which he and the Tupamaros took arms, he described himself as "a man who looks forward".
"Yes, I lost, I was wrong, but I'm responsible for that and have learnt the lessons. Anyhow I prefer not to look back, I want to target ahead and I'm convinced of the democratic commitment of the Uruguayan people, a wonderful mature people, who are asking for political reconciliation. That was the main message: get together, talk, negotiate and get things done", he said.
Mujica also revealed that Monday he will be meeting with the leader of the junior opposition party, Pedro Bordaberry, who after the October election recommended his voters to support Lacalle in the run-off.
"That will be the first of a round of talks preparing for the next government".
Lacalle in his defeat acceptance speech congratulated the new president "Mr. Jose Mujica, president of all Uruguayans", and promised to struggle for the unity of the Uruguayan people.
"Whatever Mr. Mujica as president of all Uruguayans proposes for the good of the country and its people, he will have our full support", said Lacalle.
Mujica also underlined the character and spirit of Lacalle: "he's an authentic political animal; he did a formidable campaign, my congratulations to him and his team".
Although Mujica belonged to the original political bureau of the Tupamaros guerrilla movement, he really climbed to a leading position and excelled in organizing the political wing of the former guerrillas movement following the amnesty law which set them free in 1985 on the return to Uruguay of democracy and free elections.
From scratch he organized the Popular Participation Movement, MPP, (even against the opinion of some of his former guerrilla peers who disliked "bourgeois politics") and in 1994 was elected to Parliament.
From then on MPP kept growing and by 2004 had become the main force in the Broad Front coalition, which was again confirmed last October
A plain speaker who appeals many times to coarse language, Mujica has proved to be a first class communicator who lives humbly in a small farm in the outskirts of Montevideo, where he cares for flowers.
His "communication code" uses many direct and simple farm and urban metaphors, which contrasts with the more academic approach that is common to Uruguayan leaders (President Vazquez is an oncologist and the other Uruguayan presidents since 1985 are solicitors).
In President Vazquez first cabinet he was Minister of Agriculture and Livestock and the opposition accuse him of "having done nothing" and simply taking advantage of the surge of international commodities prices, which he does not deny, "it's true".
"Thank goodness he didn't have any initiatives" says ironically former president Jorge Battle.
Mujica also turned the arm of President Vazquez who a year ago anticipated he would like to see as his presidential successor economist and Economy minister Danilo Astori.
But last June in the Broad Front primaries Mujica comfortably defeated Astori (who is now his vice-president) with a simple argument "Danilo is a genius with numbers, but I have the charm and the votes".
When the first presidential round last October (he was only two percentage points short of the 50% plus one majority) and definitively in November, the Uruguayan electorate confirmed Mujica has "the charm and the votes". Two/three percentage votes more than when the first victory of the Broad Front in 2004.
But points out Mujica: "take it easy, a percentage of those votes are on loan, it's not a contract for ever; we must match their trust".