PINTA '09 showcases Latin American art from 60 art galleries in Latin America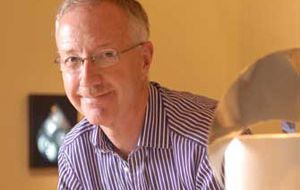 There were few signs of a recession ridden United States at PINTA '09, the modern and contemporary art fair, showcasing Latin American art from 60 art galleries in Latin America, the United States and Europe. The third annual art fair held at the Metropolitan Pavilion in New York might be a young fair, but upon closer inspection of the high quality of art produced in Latin America, it has become an important player in the global art scene presenting the best of Latin American art not only to the United States, but also to the world.
"Purchases made by museums and private collectors confirm the viability of the market for Latin American art in the international sphere. Now, that market is poised to grow," said Mauro Herlitzka, Institutional Director of PINTA. The Tate Modern Art Gallery of London bought "Las desformantes" (1964) by Horacio Zabala; Pinacoteca de São Paulo purchased two Fiaminghi works from 1956; Harvard Museum is planning to acquire a historic sculpture by Víctor Grippo; and Museum of Fine Arts Boston expressed its interest on "Untitled With Fallen Chairs" (2009) by Lilliana Porter; Museo Tamayo of México bought "The Painter" (2009), also by Porter, and "Even Days, Odd Days" (1969-2009) by David Lamelas. El Museo del Barrio of Nueva York purchased artworks by Fanny Sanín, Karlo Cárcamo and Milagros de la Torre. Also, MBA Lazard bank bought two pieces by Darío Escobar and Denise Lira for its itinerant collection of Latin American art.
2009 is the third year for the already established PINTA Museum Acquisitions Program, which invites institutions committed to Latin American art. This program has been created with the aim of incentivizing the art market and enhancing museum collections, and guarantees funds to selected museums to acquire works at PINTA. Mauro Herlitzka, Pinta Institutional Director states, "The creation of Pinta Acquisitions Funds Program has driven several institutions to add to their collections important Latin American artworks, by artists such as Joaquín Torres García, Antonio Manuel, Alexander Arrechea, Arthur Luiz Piza, Fernando Bryce, Gego, Liliana Porter or Elías Crespín."
Offering a rich panorama of the history and evolution in modern Latin American art, prominent works by the following artists were exhibited:
Alejandro Avakiam, Víctor Grippo, Django Hernández, Doris Salcedo, Luis Camnitzer, Regina Silveira, Nicola Costantino, Roberto Jacoby, Henrique Oliveira, Pablo Vargas Lugo, Arthur Lescher, Eduardo Costa, León Ferrari, César Paternosto, Elías Crispín, Marta Chilindrón, Darío Escobar, Sandra Bermúdez, Graciela Sacco, Pepe López, Valeska Soares, María Fernanda Cardozo, José Gabriel Fernández, Magdalena Fernández, Luis Lizardo, Luis Roldán, Alessandro Balteo, Mauro Giacone, Ernesto Pujol, Alexandre Arrechea, Cao Guimarães, Luiz Hermano, Antonio Manuel, Sebastião Salgado, Alejandro Almanza Pereda, Juan Irribaren, Liliana Porter, Teresa Margolles, Leandro Katz, David Lamelas, Lygia Pape, Lygia Clark, Sergio Camargo, Carmelo Arden Quin, Joaquín Torres García, Augusto Torres, Caetano de Almeida, Gego, Mira Schendel, Carmen Herrera, Hélio Oiticica, Vik Muniz, Manuel Alvarez Bravo, Jesús Soto, Julio Le Parc, José Da Costa, María Freire.
Christopher Paschall of Galeria Entrearte Colombian-based gallery exhibited for the second year stated: "Latin American art is coming into its own internationally. In the 21st Century, artwork must exhume conception and craftsmanship. Globally, our market has both older and younger artists who are fresh, and economical. In addition, collectors are emerging who prefer to put their money in buying art, a seemingly less risky investment these days than in the stock market and real estate." Silvia Salgado, an established Colombian sculptor whose art installations can be found worldwide, including Wellington, New Zealand, remarked, "It is fabulous to be part of the growing female market of Latin American and particularly, Colombian artists."
Flavio Cohn, of Dan Gallery de São Paulo, was surprised by the fair's impact on the New York art scene. "Pinta is a new art fair, only a three year old child. In the coming years all the players will evolve. There will be more maturity in the way the art galleries present themselves to the collectors and curators. This is our first year and we want to return next year."
Due to the increasing interest in the Latin American art market, fifteen galleries from New York participated this year. Alexander Gray, owner of Alexander Gray Gallery of New York, participated in PINTA for the first time and plans to return next year. "As we met new people and mingled with museums people friends, our presentation had a strong impact on the fair and it increased awareness of Latin American art to the collectors. We sold to American collectors that is not collectors of Latin American art.
Thanks to public support and private philanthropy, the PINTA Research Fund at New York University will continue to fund scholarships for advanced studies in the field of Latin American art history, with the goal of ensuring a new generation of researchers. Recipients have conducted research or investigations into: conceptual art in Sao Paulo and Rio de Janeiro; conceptual strategists from Brazil and Argentina, circa 1960; abstract geometry in artwork by Colombians Ramírez Villamizar and Edgar Negret; painting in the era before and after the Castro Revolution of 1959, plus artists working in Chile, Venezuela and Mexico during the 1960s and 1970s.
Riding PINTA 's success, the fair is crossing the Atlantic Ocean to debut its European edition next June, 2010, in London. Alejandro Zaia, PINTA chairman stated, "our goal is to take the Latin American art to the world's most knowledgeable and demanding markets.
By Dina Pinos for MercoPress - New York