Argentina protests Lisbon Treaty which has Falklands as associate territory
Tuesday, December 1st 2009 - 12:59 UTC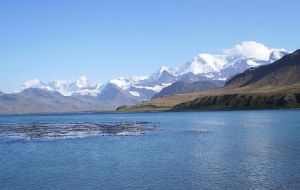 With the coming into effect December first of the European Union Lisbon Treaty, Argentina has instructed its embassies to protest EU pretensions that Malvinas, South Georgia and South Sandwich Islands and surrounding maritime spaces, and the Argentine Antarctic sector are EU associate territories.
An official release from the Argentine Foreign Affairs ministry states that Argentine embassies before the 27 EU members will also reaffirm Argentine sovereignty rights over Malvinas, South Georgia, South Sandwich islands and surrounding maritime spaces which are integral part of Argentine territory "illegitimately occupied by the United Kingdom".
The inclusion in the list of EU associate territories of the pretended "Antarctic British Territory" which Argentina does not recognize, does not at all affect legitimate rights over the Argentine Antarctic Sector.
The release recalls that similar claims related to the South Atlantic islands and Antarctic sector were formulated by Argentina "all along the negotiation and approval process and signing of the Lisbon Treaty".
More specifically protests were presented to the EU authorities and member states on 11 October 2007, when negotiations on the Reform Treaty; 5 November 2007 when the approval of the text and 13 December 2007 when the signing of the Treaty.
The Argentine government requires from the EU and member States that they take into account that the Argentine territories mentioned are in "a special situation, which differs from that of other Overseas Countries and Territories since their future is indissolubly linked to the sovereignty dispute between Argentina and the United Kingdom as has been recognized by numerous UN General Assembly resolutions since 1965.
Further on it states that it is worth remembering that Argentine government actions before European authorities date back to 1972 when UK joined the European Community, including territories "illegitimately" occupied under the regime of Overseas Association.
These actions are permanent on the side of Argentina that makes reserves on the issue when signing agreements with the EU or the EC, as well as exposing and protesting different cooperation and economic aid activities from the EU/EC towards the Malvinas islands, concludes the release.
The Lisbon Treaty amends the Treaty on European Union and the Treaty on the Functioning of the European Union.