Exploration phase to bring financial benefit to Falklands private sector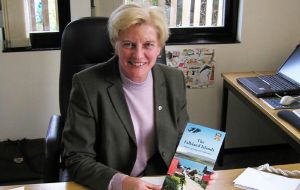 THE Falklands private sector is set to benefit financially from the next oil drilling round scheduled to begin early in February.
Director of Oil and Minerals Phyl Rendell advised caution, however, saying the planned six well drilling programme, "…will only last around six to eight months," and there will then be a lull after the initial flurry of activity.
During the anticipated rush, Falklands hoteliers, engineering trades, heavy goods drivers telecommunications organisations and businesses offering services at FIPASS (Stanley's port) are likely to enjoy additional income confirmed Mrs Rendell.
Responding to recent article in the Telegraph where journalist Chris Irvine commented, 'Scientists believe that the territory could have up to 60 billion barrels of oil underneath its coastal waters', Mrs Rendell noted that if this were discovered to be a reality, exploitation would not be for at least ten years.
If oil were discovered in commercial quantities, the Falkland Islands Government would charge 9% royalty on production and 26% corporation tax on profits. Corporation tax rates on profits less than £1,000,000.
Mrs Rendell said if enough money is made in the long term the Falkland Islands Government wish to pay the British Government for its defence. Currently this is the only area in which the Falkland Islands does not support itself financially.
She emphasised that in the event of oil exploitation in commercial quantities, "…production will take place offshore so there will be minimum impact on the infrastructure of the Falkland Islands."
In the mean time Mrs Rendell believes the most likely outcome of the next drilling round will be, "…increased knowledge of the presence of hydrocarbons," although she hopes for more than this.
The Oil and Minerals Department is currently busy ensuring necessary 'approvals' are in place to ensure safe drilling.
Semi-submersible oil and gas exploration rig Ocean Guardian contracted by Desire Petroleum left Cromarty Firth in Scotland at November 26 for a 62-day journey to the South Atlantic. Desire and their partners Rockhopper Exploration plc will share Ocean Guardian during the drilling programme to the North of the Falklands. The number of wells drilled may be extended depending on the success of the programme.
By Lisa Watson - Stanley