Mujica wants "the best possible relations" with Argentina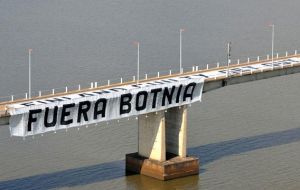 Uruguayan President-elect José Mujica vowed to have "the best possible relations" with Argentina and "isolate" the conflict over the Botnia pulp mill, which has generated frictions in the bilateral relation.
Mujica also confirmed he will meet President Cristina Fernández de Kirchner in the coming days. "Mrs. President will be here in Uruguay in the coming days for a meeting of Mercosur, and we will receive her properly. We have an agenda of pending issues."
Mujica from the ruling coalition Broad Front won Sunday's presidential runoff in Uruguay after gathering 52.6% of the vote.
Commenting on the dispute over Botnia, a paper mill built on the Uruguayan side of the river that has been resisted by Argentine activists, Mujica noted that "If we have a problem that cannot be solved, we should at least isolate it and not multiply it, and leave time do its thing."
"Having a problem doesn't mean having many problems," he added. For Uruguay relations with Argentina "are strategic".
But he also had to strongly deny reports in the Montevideo press that he was willing to consider a proposal from Mrs. Kirchner to end the Botnia pickets in exchange for voting Nestor Kirchner as Unasur (Union of South American Nations) secretary general.
"That is simply not true, nobody absolutely nobody proposed anything of the sort. They are mere speculations let off so they become hard news. I repeat it is all imagination", said Mujica when asked about the issue.
The press version said that president-elect Muica would be willing to support next April (he takes office in March) Mr. Kirchner's postulation as Unasur chairman in exchange for lifting the pickets before the summer season begins, when thousands of Argentines flock to Uruguayan Atlantic beaches.
Argentine ambassador Hernan Patiño Mayer in Montevideo discarded the reports saying "there are vested interests that don't want the conflict between Uruguay and Argentina to be solved. I totally deny what was reported. I'm convinced there are groups that want the conflict to persist and disrepute president Mujica".
Senator Lucia Topolansky who is also Mrs. Mujica said dialogue with Argentina will be with no conditions. "They haven't come up with any conditions and we are not going to ask them to dislodge the bridge by force, because that is no solution".
Last October Uruguayan president Tabare Vazquez vetoed Mr. Kirchner's name for the Unasur chair in retaliation for the tolerance of Argentine officials towards pickets that have been blocking a bridge leading to Uruguay for three years running.
Last December Vazquez ratified his position and Unasur postponed the naming of secretary general for next April.