Bolivian electorate loves President Morales but Senate is in doubt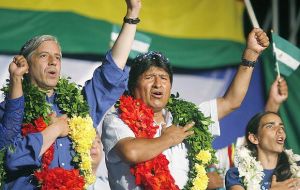 Bolivian president Evo Morales is expected to be easily re-elected on Sunday but is desperately fighting to ensure a two thirds majority in the Senate which would enable him to pass a hundred bills to continue with the political and economic reforms he has pending from his first mandate.

"The two thirds are crucial to allow us to continue with the process of democratic changes in the coming five years", said Morales at a closing rally in one of the most disputed regions of the country.

Morales also blasted what is known as "cross ballot" which means voting for a local or regional candidate which does not necessarily belong to the president's party.

In effect Morales has a 25 point lead over his presidential hopeful runner up but is still short of the 26 senators he needs for a two thirds majority in the 36 seat Upper house.

Most public opinion polls indicate that the ruling coalition has 21 benches and the opposition nine, but President Morales insists the number is 24 and "we are fighting for that 'gold Senator' to ensure the majority we need".

However the six remaining seats belong to the provinces of Beni, Chuquisaca, Santa Cruz, Cochabamba and Potosí, which are mostly strongholds from the opposition.

"Our priority is in the east, Santa Cruz, Beni, Pando and Tarija" admitted Morales during the closing of the campaign in Potosí where the government's support has fallen several points because of a local indigenous presidential candidate, René Joaquino (quite distant in the polls) but who could manage to take two of the four Senators.

Most efforts are also concentrated in the region of Pando, to the northeast of the country in the Amazon basin and the least densely populated with only 41.000 registered voters.

The four Pando senators "are the most expensive per capita" of this election because of the massive campaigning funds invested among such a small population.

The race is particularly demanding for President Morales coalition since the former governor and with a strong support in the region, Leopoldo Fernández has been jailed, allegedly involved in the killing of peasants, but is running as vice-president of one of the presidential tickets.

Morales, Bolivia's first indigenous president, is insisting on the Senate two thirds majority because during the current mandate his reforms program was repeatedly obstructed and/or thrown out by the conservative opposition.