China attacks water pollution and plans massive investments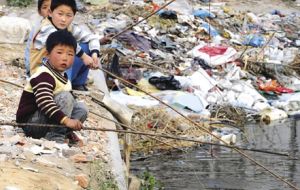 China will invest 13 billion US dollars in the next three years in projects to improve the quality of water faced with serious contamination problems, reported "China Daily". Most of the money will go to sewage systems, water purifying and rainwater harvesting according to Deputy Environment minister Wu Xiaoqing.
The Chinese official admitted that in past years huge sums had been invested with the same purpose but "not much has advanced" but it is becoming "a serious obstacle for the economic development of China" and a threat for people's health.
According to official data from Beijing, 90% of Chinese rivers are polluted, a higher percentage than a few years ago when there was not such awareness of the environmental issues.
Almost 270 million Chinese, a fifth of the population does not have access to adequate sources of drinking water particularly in rural areas where millions of peasants still toil the ground in small plots.
Wu Xiaoqing said the Chinese government would seek financial help from banks and multilateral institutions to accomplish the announced plan.
China has become the world's second largest and fastest growing market for water treatment systems with 29 billion US dollars invested until 2008 involving the construction of 1.550 drinking water and sewage plants. According to the Environment ministry China processes 86 million tons of sewage daily.
Meantime Chinese vice premier Li Keqiang has called for efforts to build the South-to-North Water Diversion Project into a water-efficient and environment-friendly project.
Li made the remarks at a meeting held by the State Council, saying the government should stick to policies regarding resource-conservation and environment-protection in the construction work.
Launched in 2002, the South-to-North Water Diversion Project, consisting of eastern, middle and western routes, is designed to divert water from the water-rich south of the country, mainly the Yangtze River, to the dry north.
By the end of October, China had invested the equivalent of 5 billion USD in the eastern and middle routes. The project has contributed to alleviate water-strain in Beijing.