Ozone hole protecting Antarctic from global warming, says SCAR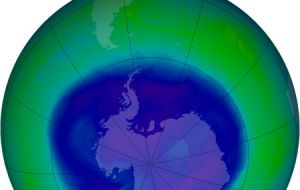 The ozone hole may be boosting the risk of skin cancer, but it's also protecting Antarctica from global warming, international researchers claim in an assessment of Antarctic climate change from the geological past to the present.
But as the ozone layer gradually heals -through a global protocol to cut the use of ozone-depleting compounds- the continent will warm rapidly, scientists claim in the Antarctic Climate Change and the Environment report, released this week by the Scientific Committee on Antarctic Research, SCAR.
"Removal of the cooling effect of the ozone hole as it diminishes in extent will exacerbate the problem (of warming)," the report says.
Commonwealth Scientific and Industrial Research Organisation (CSIRO) climate modelling expert Wenju Cai went further: "Even if ozone does not recover greenhouse gasses will overtake the cooling effect of ozone in the upper atmosphere".
Meanwhile, Dr Cai said the ozone hole has triggered intensification of westerly winds that simultaneously cool Antarctica and warm more northerly latitudes. The process would reverse as the ozone hole shrinks or greenhouse gases swamp its impact.
Tas van Ommen, a paleo-climatologist with the Australian Antarctic Division in Hobart and one of 100 contributors to the report, said data from ice cores collected by his and other teams across Antarctica, indicate levels of warming gases like carbon dioxide and methane have increased markedly since the early 20th Century.
"We're in absolutely unprecedented territory in the last 800,000 years and in all probability a lot longer than that, geologically speaking," he said.
Dr van Ommen said the ice cores also showed that while satellite data obtained from 1979-2006 suggested variability in sea ice reduction, it has decreased overall by 20% during the last 100 years, despite the overall cooling effect of the ozone hole.
His AAD colleague, glaciologist Tony Worby agreed sea ice has decreased, heralding global warming to come: "The fact we've seen this change around the Antarctic is a precursor to what we'd expect in a warmer environment".