South Africa kicks off with the magic 11 colours of Jubilani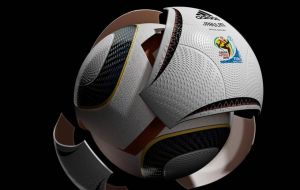 "Jubilani" or "celebration" in Zulu is the name of the ball for the month-long World Soccer Cup that begins next June in South Africa, first time ever in Africa.
The impressive eleven different colour ball presented Friday during the official competition group draw was chosen for the 11 players who take the field for every team during the tournament, the 11 official languages of South Africa, (Zulu is spoken by 25% of the people), and the 11 South African tribes that make the country extremely diverse.
The ball's design was created to, "lend the ball a unique appearance in African spirit. Like the outer facade of Johannesburg's Soccer City Stadium, individual design elements capture the colourfulness of South Africa."
"For me, contact with the ball is all-important," says Real Madrid's Brazilian superstar Kaka. "That's just great with this ball."
Using revolutionary 'Grip'n'Groove' technology, the ball is covered in small aero grooves that provide, "unmatched flight characteristics, making this the most stable and most accurate Adidas ball ever."
In addition, the "goose bumps" effect that was first seen in the 2008 European Championships has been upgraded in the "Jabulani" ball giving it a, "more futuristic texture and extensive grip."
Tested for use at Loughborough University in England and at the Adidas football laboratory in Germany, the "Jabulani" ball was put into action through Adidas' partnership with the world-class athletes at AC Milan, FC Bayern Munchen, the Orlando Pirates and Ajax Cape Town.
German captain and Chelsea midfielder Michael Ballack sums the ball up best by saying, "It's fantastic, the ball does exactly what I want it to".
During the presentation FIFA President Joseph Blatter was invited to hold and feel the Jabulani ball which recalled the recent controversy over Henry's hand goal and left Ireland out of the Cup. Smiling Blatter said "how can I hold the ball with my hands? It's not allowed in football".
Following its official unveiling during the Friday ceremony at Cape Town the ball goes on sale in the 32 countries that will be disputing the 2010 World Cup.