Malvinas, the European Union and Latinamerica
Monday, December 7th 2009 - 10:36 UTC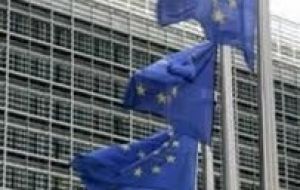 Bad news for Argentina: the Malvinas issue that until now was a bilateral conflict between Argentina and the United Kingdom has been transferred to the sphere of the large regional groups, at supra-national scale, from the moment that the Islands are considered as an "associate territory" of the European Union, points out the Buenos Aires daily Clarin.
Under the heading of "Malvinas, the EU and Latinamerica" Clarin argues that the Malvinas as an EU "associate territory" is a geopolitical anomaly and a problem for International law at the beginning of the XXI century, and is above all "bad news for Argentina" and international diplomatic claims.
According to Clarin this is what happened in the recent Ibero-American summit, --precisely created to act as a bridge between Latinamerica and the EU--, and which collected in the final declaration of the Estoril, Portugal meeting the repeated calls on the UK and Argentina to negotiate a peaceful solution to the Falkland Islands dispute.
In this new scenario Argentina counts with Mercosur and Unasur (Union of South American Nations) that support Argentine sovereignty claims over the South Atlantic islands while the UK systematically does not heed to UN resolutions and invokes the right of the Falklands' people to self-determination.
With the conflict "frozen" and the inclusion of the Falklands in the EU map as an associate territory, the colonial enclave condition is confirmed and "is bad news for Argentina and the international diplomatic claim" concludes Clarin.