Opposition does not discard impeachment of President Cristina Kirchner
Monday, December 7th 2009 - 11:20 UTC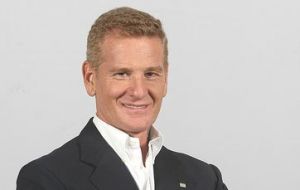 A leader of the Argentine opposition does not discard the possibility of impeaching President Cristina Fernandez de Kirchner for alleged acts of corruption.
"This government is teeming with corruption. Every day we hear of a new corruption report filed and it's always too close to the ruling Kirchner presidential couple, from illicit enrichment to the medicine prescriptions scandal (which distributed fake pharmaceutical products to pensioners), or how money was collected for the last mid term campaign", said Francisco de Narvaez from the Lower House and one of the leaders of the dissident Peronist (ruling coalition) grouping.
"I don't discard any possibility but I believe it will come through some judicial sentence of evidence in the hands of the courts, and when this happens the impeachment process against the President could very well begin", said de Narvaez who in June's mid term election cracked the grip of the Kirchner and the unions in their main turf in the Province of Buenos Aires.
De Narvaez last Thursday was sworn in as a new member of the Lower House. In the mid term election he defeated the slate headed by former president Nestor Kirchner (2003/07) (and husband of Cristina Fernandez) who also became member of the new Congress which officially opens December 10.
De Narvaez and the Kirchners belong to the same hegemonic Peronist movement that dominates Argentina politics. However de Narvaez together with a group of disenchanted governors and fringe groups managed to emerge last June as a promising option for the decadent Kirchners.
The presidential couple has been summoned to explain how they managed to multiply several times their personal fortune since taking office, mainly through the acquisition of land and real estate. Some of the accusations date back from when Mr. Kirchner was governor of Santa Cruz before becoming president in 2003.
Similarly Plannification minister Julio De Vido who manages the huge public works and energy purse has been accused of repeated cases of corruption with over prices, manipulation of bidding processes and helping cronies and a group of companies close to the Kirchners.
However what has had greater public opinion impact is a network of fake pharmaceuticals managed by the unions' social security system and which among other things distributed innocuous pills and treatments to cancer patients, children and elderly. The unions running the scam are strong political allies of the Kirchners and the pharmaceutical suppliers figure among the main contributors to the Kirchner electoral campaigns.
Last week for the firs time in six years, the opposition in the newly sworn Lower House acted undivided and nominated a majority of its members to the committees and will be chairing 25 of the 40, leaving the Kirchners (which until now enjoyed an overwhelming majority) as a first minority in Congress.