Venezuela tackles crime, 20% of which committed by the police force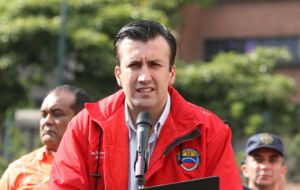 Almost a fifth of all registered crimes in Venezuela are committed by law enforcement officers, particularly those most violent such as kidnapping and homicides, revealed Home Secretary Tareck El Aisammi.
"Of the total number of crimes with filed complaints, 15% to 20% are committed by police officers, particularly those involving most violence such as homicide and kidnapping" said the Interior minister during the program "Aló, President" anchored by Venezuelan President Hugo Chavez.
During the Sunday program Chavez retook the security and law and order issues and called "to defeat the enemy of the revolution that is crime: from the little punk…to those much better organized that rob banks, kidnap people, commit homicides and the paramilitary".
"We must organize special teams for each different crime. We have to better organize, like if it was war, it is war", underlined the president.
Chavez also called for the "intervention" of the police force from the state of Táchira, ruled by one of the opposition leaders César Pérez, if "complicity evidence" is found linking the killing of two members of the National Guard at the border with Colombia, and for which the central government blames paramilitary groups.
Chavez has been insisting that crime, insecurity and violence are "becoming a threat for the revolution" admitting at the same time that this "scourge" is one of the issues which "most concerns" Venezuelan law abiding citizens.
Even when the Venezuelan government for months has ceased to provide statistics on homicides, recent opinion polls show that violence in Venezuela has become the main fear of Venezuelans, even more than galloping inflation.
Non official statistics published by the press indicate that every weekend an estimated 50 people are victims of homicides in the capital Caracas, where the ratio is 100 homicides per 100.000 population, according to the Venezuelan Violence Observatory, OVV, a non government, non profit organization.
The world ratio stands at nine homicides per 100.000 population.
Chavez has created a new police force which will depend directly from the ministries of Interior and Justice to address the "scourge" and is schedule to begin at the end of this month.